18 February 2016
Suzuki at the Japan International Boat Show 2016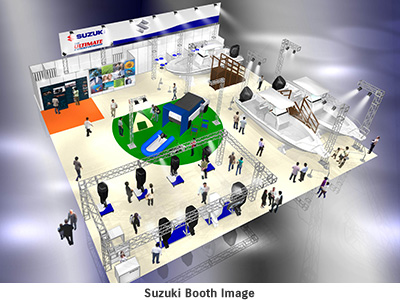 Suzuki Motor Corporation will exhibit the all-new DF5A/6A and its main outboard motors, fishing boats, and other Suzuki products at the Japan International Boat Show 2016 which will be held at Pacifico Yokohama and Yokohama Bayside Marina (both located in Yokohama, Kanagawa) from 3 to 6 March, 2016.
<Overview of Suzuki exhibits>
At the Suzuki booth located at Pacifico Yokohama, a total of 11 units of Suzuki's main outboard motors including the Japanese specification of the all-new DF5A/6A (compact, lightweight, and user-friendly outboard motors for small boats unveiled at the Düsseldorf Boat Show held in Germany this January) and the matte black painted DF115A and DF150 will be exhibited. Plus, three boats including the 23-foot FAVAS fishing boat are to be exhibited along with other exhibits such as the Hustler minicar with a mini boat. Focusing mainly on outboard motors and boats, the Suzuki booth aims to offer more comfortable and fulfilling marine life through these exhibits.
Suzuki Exhibits
- Outboard motors (11 units)
DF200AP (two units), DF150, DF115A, DF90A, DF60A, DF30A, DF6A (two units), DF5A, and DF2
- Boats (three units)
FAVAS (two units) and X24
- Other Suzuki products
Automobile: Hustler
Motorcycle: DR-Z50 (a motocross racing machine for kids)
Industrial equipment: SUW-30 (ultrasonic cutter)


SUW300 (ultrasonic welding machine)




SUC-900A (ultrasonic washing machine)