25 January 2016
Suzuki Unveils New Outboard Motors
DF4A/5A/6A at the Düsseldorf Boat Show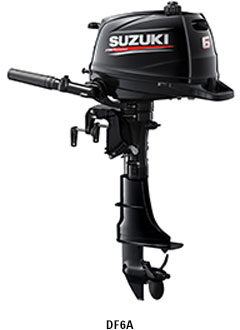 Suzuki Motor Corporation has unveiled new outboard motors DF4A/5A/6A at the 47th International Boat Show Düsseldorf*.
*Held in Düsseldorf, Germany from 23 to 31 January.
DF4A/5A/6A are comprehensively enhanced versions of DF4/5/6, which are favoured as 4/5/6-horsepowered portable four-stroke outboard motors for small boats. They have been further improved to make them more compact and much lighter, enhancing portability and user-friendliness.
Production will be conducted at a Thai subsidiary, Thai Suzuki Motor, starting from DF6A in February, eventually followed by DF5A and DF4A. They are planned to be marketed globally including Europe and Japan.
<Main features of DF4A/5A/6A>
More compact and much lighter
- While maintaining the engine displacement of 138cm3, the conventional design has been overhauled and downsized to realize 1.5kg weight reduction (23.5kg*). The lighter weight has improved operability.
*Weight of S type (shorter transom length). Weight of propeller and engine oil not included.
- Along with weight reduction, the carrying handle integrated into the lower cover which has been rounded and made easier to hold, and an additional grip at the front further improve its portability.
Enhanced user-friendliness
- The overhead integral fuel tank and the new lubricating systems allow transport and storage of the outboard on any of three sides (port, starboard, or front) without leakage of fuel or oil.
- Because the overhead fuel tank is placed right above the carburettor, it also allows gravity fuel supply, enabling the engine to start instantly right after filling fuel, even after long-term storage. These features have enhanced its user-friendliness as a portable outboard motor.