30 June 2015
Suzuki announces the New Mid-Term Management Plan SUZUKI NEXT 100 (from FY2015 to FY2019)

- Strengthening of management base toward the 100th anniversary of foundation and the next 100 years -
Suzuki Motor Corporation has established the New Mid-Term Management Plan SUZUKI NEXT 100, a five-year plan from 2015.
The Suzuki Group will be celebrating its 100th anniversary of foundation in 2020. In order for the Group to continuously grow for the next 100 years, Suzuki will put efforts into strengthening of management base by positioning the next five years as the period to stabilize the foundation of management. The Group will tackle as Team Suzuki to globally develop manufacturing base and overhaul working procedure.
Under the New Mid-Term Management Plan, the Group will unite as one to enhance corporate value and aim for sustainable growth.
Overview of the New Mid-Term Management Plan SUZUKI NEXT 100 is as per below.
New Mid-Term Management Plan SUZUKI NEXT 100
- Strengthening of management base toward the 100th anniversary of foundation and the next 100 years –
I. Basic Policy
By returning to the origin of "Develop products of superior value by focusing on the customer" as mentioned in the first paragraph of the mission statement, Suzuki will strengthen its business base.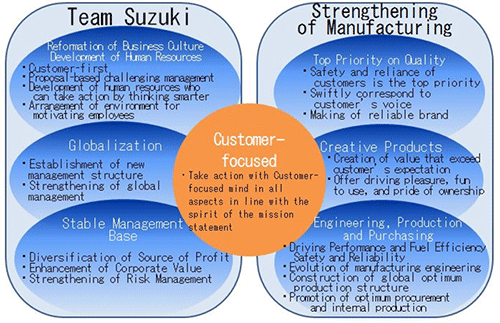 II. Suzuki's Business Strategy
1. Automobile Business
Concentrate on Mini to C, and SUV segment models to correspond to the expanding global compact car market.
For development efficiency, consolidate platform and concentrate development of gasoline engine.
Introduce 20 models globally in five years.
Centered in Japan and India, Asia is the main region
(Japan – Minicar share of more than 30%, compact car sales of more than 100,000 units)
(India – Passenger share of more than 45%)
Make Japan, India, Indonesia, Thailand, and Hungary as production base of global cars.
2. Motorcycle Business
Departure from chronic deficits through selection and concentration.
Development of products which clearly define characteristics of Suzuki (150cc and up, backbone, sport)
3. Outboard Motor Business
Aim for the world's best four-stroke outboard motor brand
"THE ULTIMATE 4-STROKE OUTBOARD"
Focus on strengthening sales in the US and development of Asian market.
III. Mid-Term Management Target
As for the consolidated net sales, Suzuki will aim to promptly exceed its highest-ever marked in FY2007 (¥3,502.4 billion) by steadily increasing.
By balancing between investments for growth and strengthening of management base, Suzuki will consistently promote efforts for enhancing corporate value.
1. Mid-Term Management Target Value
FY2014 Result
FY2015 Disclosed Value
FY2019 Target
Consolidated Net Sales
¥3,015.5 billion
¥3,100.0 billion
¥3,700.0 bilion
Operating Income Margin
6.0%
6.1%
7.0%
Shareholder Return
ROE
6.9%
-
8~10%
Dividend payout ratio
15.6%
(¥27.00 per share)
more than 15%
R&D expenses
¥125.9 billion
¥130.0 billion
¥200.0 billion
(Total capital expenditures for five years)
(¥1,000 billion)
※ Foreign exchange rates…¥115/US$, ¥125/Euro,
¥1.85/Indian Rupee, ¥0.90/100 Indonesian Rupiah,
¥3.50/Thai Baht
2. Global Sales Units
FY2014 Result
FY2015 Disclosed Value
FY2019 Target
Automobile
Japan
760,000
650,000
700,000
Europe
200,000
210,000
280,000
Asia
1,720,000
1,930,000
2,200,000
Others
200,000
200,000
220,000
Total
2,870,000
2,980,000
3,400,000
Motorcycle
Japan
70,000
70,000
70,000
Europe
40,000
50,000
70,000
North America
40,000
50,000
60,000
Asia
1,400,000
1,570,000
1,500,000
Others
210,000
220,000
300,000
Total
1,760,000
1,960,000
2,000,000
※ The targets and forward-looking statements mentioned in this document are based on currently available information and assumptions, contain risks and uncertainty and do not constitute guarantees of future achievement.
※ Please note that the future results may greatly vary by the changes of various factors. Those factors, which may influence the future results, include economic conditions and the trend of demand in major markets and the fluctuations of foreign exchange rates (mainly U.S. dollar/Yen rate, Euro/Yen rate, Indian Rupee/Yen rate).