3 June 2015
Suzuki develops 2-cylinder 0.8L diesel engine and launches in India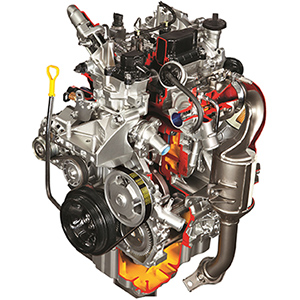 Suzuki Motor Corporation has developed a lightweight and compact 2-cylinder 0.8L E08A diesel engine for compact cars. This engine will be installed on the Celerio, a compact car produced and distributed in India, for launch in India.
Suzuki has been installing diesel engines mainly onto overseas models varying from 1.3L to 2.0L, which were supplied from or produced under the license of other manufacturers. To meet the need for diesel engine variants in the Indian market, Suzuki has developed in-house, a 2-cylinder 0.8L E08A diesel engine.
The E08A diesel engine has realized weight-saving by adopting aluminum for the material of cylinder block and installing compact fuel distributor system and turbo charger suited for 2-cylinder engine. By decreasing the compression ratio and installing a large intercooler, it has combined high torque in the low rpm range and fuel efficiency. Also, by optimizing the flywheel, the low frequency vibration specific to 2-cylinder diesel engine has been mitigated.
Upon installing the engine onto the Celerio, low frequency vibration and combustion noise from the engine have been mitigated by optimizing the engine mount and vehicle body rigidity, as well as adding noise absorption materials, etc. to raise comfort. The diesel variant of the Celerio has achieved the top fuel efficiency in India*1 at 27.62km/L*2.
Main spec of the E08A diesel engine
| | |
| --- | --- |
| Engine type: | 2-cylinder DOHC 8-valve intercooler turbo diesel engine |
| Displacement: | 793cm3 |
| Bore x Stroke (mm): | 77.0 x 85.1 |
| Compression ratio: | 15.1 |
| Maximum output (kW/rpm): | 35/3,500 |
| Maximum torque (Nm/rpm): | 125/2,000 |
*1 Suzuki research as of June 2015.
*2 Test results of Rule 115 of CMVR, 1989.