24 March 2015
Suzuki unveils authentic sedan Ciaz at the Bangkok International Motor Show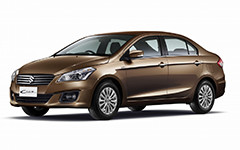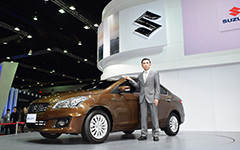 Suzuki Motor Corporation has unveiled to launch authentic sedan Ciaz in Thailand at the Bangkok International Motor Show, which is being held in Bangkok, Thailand from 23 March, 2015*.
*VIP day on 23 March. Press day on 24 March. Public days from 25 March to 5 April.
Ciaz combines, at a high level, every element required in a sedan: a stylish, high-quality design, an ample and comfortable interior space, well-balanced fuel efficiency and driving performance, and high safety performance. Production of the Ciaz will start from June by Suzuki Motor (Thailand) Co., Ltd. (SMT), Suzuki's Thai subsidiary, and it will be introduced to the Thai market. SMT's Rayong Plant started producing the Swift in 2012, the Celerio in 2014, and Ciaz will be the third model to be produced at the plant.
Ciaz was launched in October 2014 by Maruti Suzuki India Limited, Suzuki's Indian subsidiary, as well as by Chongqing Changan Suzuki Automobile Co., Ltd., Suzuki's Chinese joint venture in December under the name ALIVIO. Thailand will be third country to produce the model.
At the press conference held on 24 March, Toshihiro Suzuki, Executive Vice President, Suzuki Motor Corporation said "The ASEAN area accounts for 10% of our global automobile sales by volume and is very important for our global business. Models manufactured at the Rayong Plant are exported to ASEAN and European countries. Thailand is now an important site for the global business of Suzuki. We will continue to pursue higher driving performance and efficient packaging, and produce refined products here in Thailand and provide greater values than customers' expectations."
Main specification of the Ciaz
- Overall length 4,490mm x width 1,730mm x height 1,475mm
- Engine: 1.25L K12B gasoline engine
- Transmission: 5MT and CVT with an auxiliary gearbox
Other exhibits: Swift, Celerio, Ertiga, and Carry