6 March 2015
Suzuki unveils its MotoGP team name as Team SUZUKI ECSTAR

-ECSTAR, the global umbrella brand of Suzuki genuine oil/chemical products–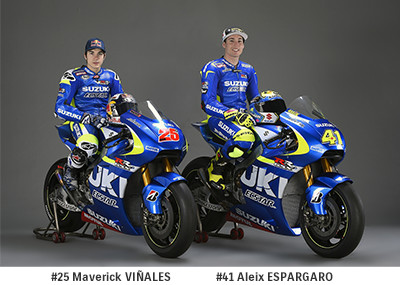 Suzuki Motor Corporation has unveiled its MotoGP team name as Team SUZUKI ECSTAR. Suzuki will come back to the MotoGP class of the the world's top motorcycle racing series, the FIM* Road Racing Grand Prix (MotoGP), from 2015. The 2015 season will start from the Qatar GP, which will hold its race on 29 March, 2015.
*Fédération Internationale de Motocyclisme (International Motorcycling Federation)
Team SUZUKI ECSTAR will participate with the new racing machine GSX-RR, which is installed with the newly-developed in-line four-cylinder engine. Two riders, Aleix ESPARGARO (Spain), who was ranked seventh in the MotoGP class last season, and Maverick VIÑALES (Spain), who has stepped up from the Moto2 class, will compete aboard the GSX-RR.
Suzuki's Director and Senior Managing Officer Eiji Mochizuki (Executive General Manager, Motorcycle Operations) said "Finally, Suzuki will make a comeback to the MotoGP, the world's top motorcycle racing series. Through high-level competition, we will sharpen up our technologies, and aggressively feed them back to our production models and interact with Suzuki customers all over the world. Suzuki will challenge to improve satisfaction of customers all over the world to a higher level, through racing and our products. We ask our fans to support the Team SUZUKI ECSTAR."
ECSTAR is the brand name of Suzuki's genuine high-performance engine oil, which has been on sale since 1984. It has been sold mainly in Japan and exported from Japan.
In the occasion of the ECSTAR brand's 30th anniversary and Suzuki's participation in the MotoGP, Suzuki will seek to increase global recognition of the ECSTAR brand by establishing the ECSTAR brand as the global umbrella brand of Suzuki genuine oil/chemical products, and making it the MotoGP team name. Starting from Europe, the ECSTAR brand will be offered to overseas distributors as a high-quality, dependable brand.
GSX-RR spec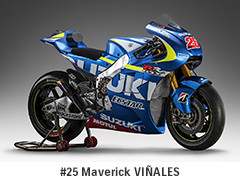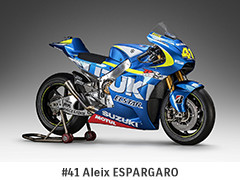 Overall length x width x height
2,096mm x 720mm x 1,140mm
Wheelbase
1,457mm
Body weight
160kg
Engine type
Water-cooled, four-stroke in-line four-cylinder,
DOHC four-valve
Displacement
1,000cm3
Maximum output
Over 169kw (230PS)
Maximum speed
Over 330km/h
Gearbox
Six-speed (cassette type)
Frame type
Twin-spar aluminum
Tires (front/rear)
16.5in/16.5in
Front suspension
Öhlins, inverted fork
Rear suspension
Öhlins
Brake (front/rear)
Carbon disk/steel disk, Brembo
Team structure of the Team SUZUKI ECSTAR
Rider profile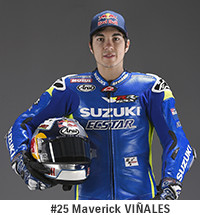 Country
Spain
Age
20 (12 Jan., 1995)
Statistics
2012 Moto3 3rd
2013 Moto3 1st
2014 Moto2 3rd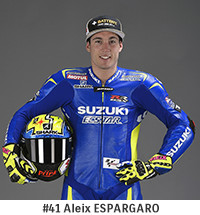 Country
Spain
Age
25 (30 Jul., 1989)
Statistics
2012 MotoGP 12th
2013 MotoGP 11th
2014 MotoGP 7th
Team Director and Managers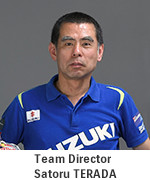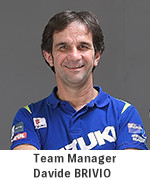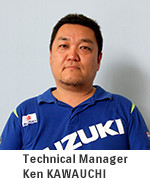 Suzuki ECSTAR series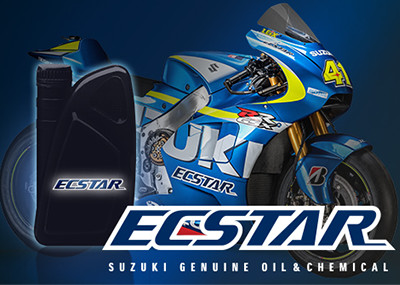 *The picture is an image.
ECSTAR is the Suzuki genuine high-performance engine oil which was born in 1984.
Its name derives from the words Ecstatic and Star, meaning "the star of ecstatic performance".
By unifying Suzuki genuine oil/chemical products into the ECSTAR brand, Suzuki will provide dependable and reliable service to the customers through Suzuki automobile, motorcycle, and outboard motor dealers all over the world.
SUZUKI-RACING
https://www.suzuki-racing.com/motogp/championship.aspx