28 January 2015
Suzuki holds the foundation stone ceremony of the new plant in Gujarat, India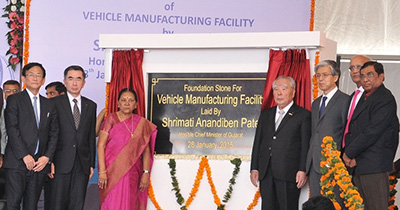 Suzuki Motor Corporation today held the foundation stone ceremony of the new vehicle manufacturing facilities in Gujarat.
The ceremony was attended by the Chief Minister of Gujarat, Ms. Anandiben Patel, guests from state governments, and H.E. Mr. Takeshi Yagi, Ambassador Extraordinary and Plenipotentiary to India. Suzuki's Chairman & CEO Osamu Suzuki, Executive Vice President Toshihiro Suzuki, as well as Maruti Suzuki's Chairman R. C. Bhargava, and Managing Director Kenichi Ayukawa were also present at the ceremony.
At the ceremony, Chairman Suzuki said "To build our new plant in Gujarat is the opening of a new era for us, and it is the 2nd Suzuki Project in India. Under the "Make in India" program proposed by the Prime Minister H.E. Mr. Narendra Modi, we will set up a state-of-the-art production plant here in Gujarat, with high focus on productivity and efficiency. New plant will start with the annual production capacity of 250,000. We would like to work together, and supply our products to the people of India and the world."
The new plant is likely to start production from mid-2017. The annual production capacity is planned to be 250,000 units, and the total investment amount is expected to be approximately 60 billion yen.
Vehicles and parts produced at new plant in Gujarat will be supplied only to Maruti Suzuki India (MSIL), and distributed through MSIL's sales network. MSIL will concentrate on investing in development of products and strengthening of sales force, and Suzuki will invest in the new production company.