4 September 2014
Suzuki's Hungary production SX4 S-CROSS honored with Hungarian Quality Product Award(R)

–Third model after the Splash and the Swift-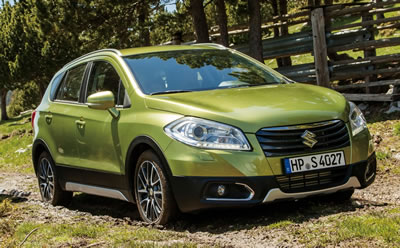 SX4 S-CROSS, a C-segment crossover produced by Magyar Suzuki Corporation Ltd., a Hungarian subsidiary of the Suzuki Motor Corporation, has won this year's Hungarian Quality Product Award(R) in the category of Vehicles on 3 September, 2014.
Hungarian Quality Product Award(R) is an initiative promoted by the Hungarian Quality Product Committee, a non-profit organization supported by the Hungarian Government. Its aim is to increase Hungarian consumer's consciousness in quality. The applicants for the award are high quality products that are innovative and reliable, and are manufactured and distributed in Hungary.
This year is the 17th year of the award, and Magyar Suzuki production Splash and Swift had won the awards in 2009 and 2011. SX4 S-CROSS is the third model to win this award.
SX4 S-CROSS is produced in Hungary and distributed throughout Europe, as well as exported to markets including the Middle East, South Africa, Australia, and Mexico.