4 June 2014
Suzuki unveils new outboard motors DF200A/DF200AP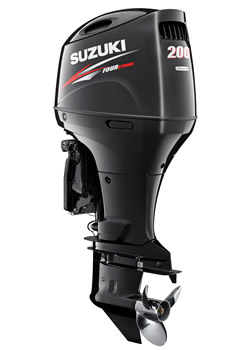 Suzuki Motor Corporation's subsidiary in the US, Suzuki Motor of America Inc. has unveiled two new lightweight and fuel-efficient outboard motors DF200A/DF200AP, which can be used in a wide variety of usage from marine leisure such as sport fishing boat and high speed cruiser, to commercial use.
DF200A/DF200AP are four-stroke outboard motors, which realized maximum output of 147kW (200PS) by reviewing the intake system and increasing the compression ratio based on 2,867cm3 in-line four-cylinder engine of the DF175. Along with the adoption of lightweight in-line four-cylinder engine, it realized high fuel-efficiency by adopting the Suzuki Lean Burn Control System.
In addition, DF200AP has adopted the Suzuki Selective Rotation, the world's first technology to integrate both regular and counter rotations of a propeller. The control system has been changed from conventional mechanical cable to electronically controlled Suzuki Precision Control (electronic throttle and shift systems), which realized quick-responding throttle control and smooth gear operation.
By adding DF200A/DF200AP to the existing DF200 equipped with V six-cylinder engine, the lineup of 147kW (200PS) outboards will be fulfilled to meet many types of needs of boat users.
Suzuki plans to produce DF200A from October 2014 and DF200AP from February 2015 at its Toyokawa Plant, and start their sales worldwide including North America and Europe.