20 April 2014
Overview of Suzuki exhibits for the 2014 Beijing International Automotive Exhibition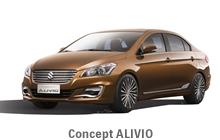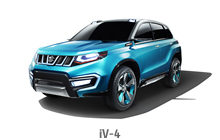 Suzuki Motor Corporation has made world premiere of the C-segment sedan concept model Concept ALIVIO, and China premiere of the compact SUV concept model iV-4 at the 2014 Beijing International Automotive Exhibition, which is being held in Beijing, China from 20 April, 2014*.
*Press day: 20 April. Public days: 21 to 29 April.
By exhibiting automobiles, large-displacement motorcycle models, and new outboard motor models, Suzuki will appeal its overall strength.
Suzuki plans to produce and distribute production models based on Concept ALIVIO within 2014 and iV-4 within 2015 at its joint venture in China, Chongqing Changan Suzuki Automobile Co., LTD. By introducing a C-segment, which has the largest volume in the Chinese automobile market, and an SUV, which is growing in popularity in China, Suzuki will seek to expand its sales.
Concept model
Concept ALIVIO
Concept ALIVO is a further refinement toward production model of the AUTHENTICS, a model exhibited at the Shanghai International Automobile Industry Exhibition held in April 2013.
Features
- Low and wide styling which gives a sense of stability.
- Sporty & Noble design by adopting smooth curved surface and sharp character lines.
- 1586cm3 water-cooled, four-stroke in-line four-cylinder DOHC 16-valve VVT gasoline engine, with increased output and improved fuel efficiency by reduction of weight and frictional resistance.
- Newly-developed, lightweight and compact six-speed automatic transmission with improved fuel efficiency.
- Overall length 4,545mm x overall width 1,730mm x overall height 1,475mm
iV-4
iV-4 is concept model which has realized strong compact SUV design and driving performance by adopting next-generation 4WD system ALLGRIP, in addition to a design with futuristic touches such as the illuminated grille while inheriting traditional Suzuki SUV design.
Other exhibits
Automobiles
SX4 S-CROSS, SX4, SX4 Sedan, Alto, Swift (special edition), Swift Sport, Kizashi, Jimny, and Grand Vitara
Motorcycles
Reference exhibit: V-Strom 650 ABS Scheduled for launch: Hayabusa (ABS)
Outboard Motors
DF30A, DF90A, and DF140A
Global Suzuki special website for Auto China:
https://www.globalsuzuki.com/autochina2014/
YouTube Global Suzuki Channel:
http://www.youtube.com/user/GlobalSuzukiChannel