25 March 2014
Suzuki exhibits new compact car CELERIO
at the Bangkok International Motor Show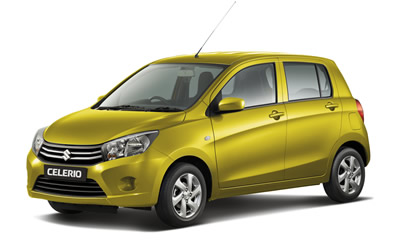 Suzuki Motor Corporation's subsidiary in Thailand, Suzuki Motor (Thailand) Co., Ltd. (SMT) has exhibited new compact car CELERIO at the 35th Bangkok International Motor Show, which is being held from 25 March, 2014*.
*Press day: 25 March. Public days: 26 March to 6 April.
CELERIO is a global compact car that will be marketed based on the concept model A:Wind, which was exhibited at the Thailand International Motor Expo held in November 2013. It has adopted a liberating interior and exterior design to a packaging which has realized roomy interior and luggage capacity despite its compact body, by reviewing the structure and layout of the body.
In addition to the newly-developed five-speed manual transmission with improved maneuverability, it will also be available with CVT equipped with auxiliary gearbox for the Thai market, where automatic transmission is the mainstream. By offering a choice from these two transmission types, and combining with the newly-developed 1.0L engine, it has cleared fuel consumption of 5L/100km, one of the requirements for cars that meet the eco-car project promoted by the Thai government.
Suzuki has started production and distribution of the eco-car SWIFT in SMT from March 2012, and its production in 2013 was approximately 50,000 units. CELERIO will be produced from May 2014 as its second eco-car following the SWIFT. Also, it is planned to start production of European CELERIO which will be launched in the latter half of 2014.