6 February 2014
Overview of Suzuki exhibits for the India Auto Expo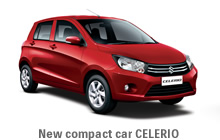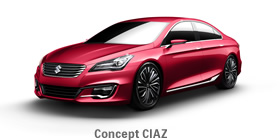 Suzuki Motor Corporation's subsidiary Maruti Suzuki India Limited is exhibiting new compact car CELERIO and concept car Concept CIAZ at the 12th Auto Expo, which is being held in Greater Noida, Uttar Pradesh in India.
*Press days: 5 to 6 February, 2014 / Public days: 7 to 11 February, 2014.
New compact car CELERIO
The need for fuel-efficient compact cars is increasing every year in India. To meet the kind of needs, Maruti Suzuki will introduce new fuel-efficient compact car CELERIO in India.
In addition to equipping Suzuki's new transmission Auto Gear Shift, the CELERIO has realized high fuel efficiency by improving each part of the K10 engine, and reducing its body weight through adoption of high-tensile steel plate and reviewing of materials to the details.
Main specification
| | |
| --- | --- |
| Overall length: | 3600mm |
| Overall width: | 1600mm |
| Overall height: | 1560mm |
| Body weight: | 810kg to 830kg |
| Engine displacement: | 1.0L |
Concept CIAZ
Reference exhibit of the authentic sedan concept model Concept CIAZ is exhibited.
Concept CIAZ is an Indian version of the Authentics, which has made its world premiere at the Shanghai International Automobile Industry Exhibition in China in April 2013. Its characteristics are rich and elegant design and a stable authentic sedan style.
In addition to the above models, reference exhibit of the new SX4 S-CROSS, Maruti Suzuki's production models, as well as sportbike GIXXER and new scooter Let's from Suzuki's subsidiary Suzuki Motorcycle India Limited will be exhibited at the Auto Expo.