28 November 2013
A:Wind – Suzuki's new A-segment hatchback concept
-Suzuki reveals the A:Wind
-Design, roominess and quality that override the A-segment standard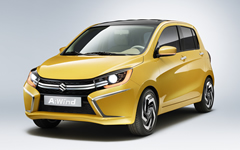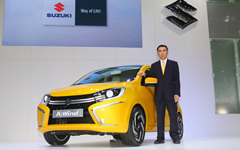 Suzuki Motor Corporation is pleased to announce the world premiere of its A-segment hatchback concept model, the A:Wind, at the 30th Thailand International Motor Expo 2013 (press day: November 28; public days: November 30 through December 10).
The A:Wind is so named because it seeks to bring a fresh wind to the A-segment as a global compact car. Not constrained by conventional A-segment standards, it embodies the expertise in building compact cars that has made Suzuki admired around the world. An elegant-looking exterior and interior, a spacious, user-friendly cabin, and excellent fuel economy — this new concept model has it all.
Design
Exterior
The design revolves around three concepts: a dynamic body, a roomy cabin, and fine quality. The features of this car, energetic styling, spacious inside and quality interior and exterior are the embodiment of the three concepts.
The dynamic front grille with integrated headlights and the elegant effect created by the character lines that extend along the sides give the A:Wind an air of quality far superior to that expected in a basic model.
The body combines a stylish exterior design with a spacious interior.
Interior
Much ingenuity has gone into the interior layout. To create a more comfortable cabin, the distance between the front and rear seating has been extended, door openings are wide, and the seats are easy to get in and out of; plus the A:Wind delivers class-leading luggage space.
The interior is coordinated in bright elegant beige that nicely complements the exterior colour of the car and exudes the air of quality you expect of a global compact.
The dashboard sweeps dynamically outward, further enhancing the impression of spaciousness.
Colour scheme
The exterior colour scheme consists of Energy Yellow, evocative of the cheering and excitement of a stadium in midsummer, and Panoramic Blue, suggesting cloudless azure skies over tropical beaches. Energy Yellow produces a dynamic effect through the interplay of the shimmering greenish highlights with the assertive yellow in the shadows. The translucent Black Pearl of the roof, curving seamlessly into the windshield, suggests the comfort of the interior. Panoramic Blue conjures up a piercing blue sky extending endlessly in all directions with not a cloud in sight.
Production model
Suzuki is currently developing a production model based on the A:Wind, which is scheduled to go into production in 2014. This production model, Suzuki's second car to meet Thailand's eco-car fuel economy standards, is to be manufactured in Thailand and exported abroad.
Dimensions
| | |
| --- | --- |
| Overall length: | 3,600mm |
| Overall width: | 1,600mm |
| Overall height: | 1,540mm |
| Wheelbase: | 2,425mm |
| Engine: | 996cm3 petrol engine |
| Type of drive: | Front-wheel drive with CVT |
| Tyre size: | 185/55 R16 |
The 30th Thailand Motor Expo special website:
https://www.globalsuzuki.com/TME2013/