29 October 2013
Suzuki Announces Exhibits for the 43rd Tokyo Motor Show 2013
Suzuki Motor Corporation will display the following exhibits at the 43rd Tokyo Motor Show 2013 (organizer: Japan Automobile Manufacturers Association), which will be open to the public at the Tokyo Big Sight from November 23 to December 1, 2013.
The Suzuki booth's theme of the Tokyo Motor Show exhibits is: "Let's Create a Brand New Story". Suzuki recognizes that the daily life of each and every customer is a story, and by adding something to each of those stories, our desire to create different, brand new stories together with our customers, is put into the theme.
Based on the Suzuki slogan of "Small Cars for a Big Future," the concept cars to be exhibited at the show offer cars that are currently in demand, cars that should be available in the near future, and cars for the more distant future. In order to build a Brand New Story that will add excitement and passion to the daily lives of customers around the world, the cars are packed with Suzuki's attractive products and unique leading-edge technology.
In addition, the design of the Suzuki booth features an S-shaped border that depicts lightness and softness to an open construction that expresses a bright future. An ultrawide panoramic screen measuring 3.6m x 40m is set at the back of the stage. Introduction videos of the concept cars will be streamed across the main stage to show the Brand New Story of Suzuki and its customers in a beautiful image, which were produced by movie director Shunji Iwai.
Main Exhibits
Automobiles
Reference Exhibit
Crosshiker: a compact crossover that fuses fresh new styling with a dynamic weight reduction and highly-efficient power train.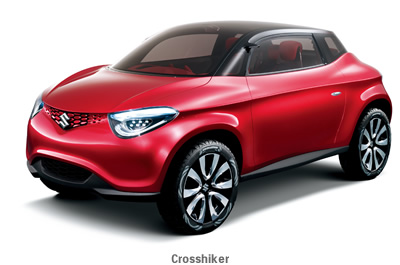 The Crosshiker is a compact crossover, which is an alternative offer of the REGINA*, the concept car packed with lightweight and fuel-efficient technologies that was exhibited at the 2011 Tokyo Motor Show. It uses the next-generation lightweight platform adopted for the REGINA*.
It features a size of a compact car while weighing 810kg, the weight of a minicar. With a newly developed 1L 3-cylinder engine, it strikes a balance between power performance and environmental performance.
The Crosshiker inherited the REGINA* concept "Eco-friendly on the inside while having a design with personality that would evoke passion in users," while adopting more exciting styling and a design befitting a crossover tailored to adults who are keeping a playful mind.
* The REGINA was exhibited as G70 in overseas.
X-LANDER: a real 4WD hybrid with a distinctive personality.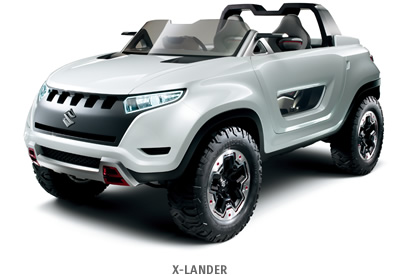 We want the drivers to use this car in the city and sometimes go out to play in the field. This concept model is packed with such intention.
Based on the Jimny, Suzuki's world-class compact 4WD vehicle, the X-LANDER is equipped with a 1.3L engine and a newly developed automatically controlled manual transmission.
It incorporates a compact lightweight hybrid system equipped with a highly-efficient motor built onto a 4WD system, achieving both up-to-date environmental performance and excellent running performance.
The vehicle design is loaded with full of playful touches so that the vehicle looks like a fusion of off-road power and mechanical precision.
HUSTLER: the challenge to a new genre, a crossover that suits an active lifestyle.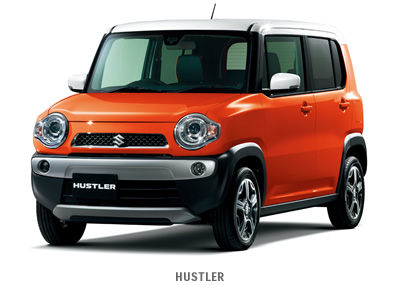 This is a crossover type concept model of a new-genre minicar that suits the active lifestyle of people who love the nature, love the outdoors, and love sports.
This is a stylish yet practical design with plenty of SUV touches, combining an exterior that looks like it belongs in the outdoors with a roomy, comfortable, and useful interior.
HUSTLER Coupe: the challenge to a new genre of minicar, a crossover coupe that has a beautiful silhouette.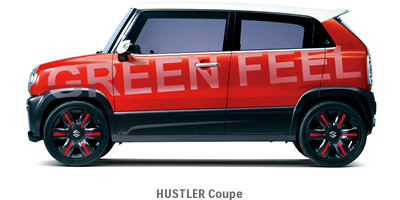 This is a concept model that adds further design variation of a coupe silhouette to the reference exhibit HUSTLER.
iV-4: a compact SUV with a powerful design that carries on the Suzuki SUV image.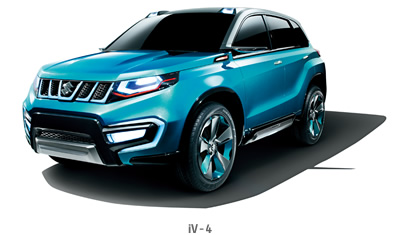 The iV-4 is a compact SUV concept model newly offered by Suzuki, who has earned high marks for its Jimny, Grand Vitara, and other compact SUVs.
Its concept "Grab Your Field" has the meaning to let the users pursue their own pastimes and lifestyles, and offer running power that firmly grips the ground surfaces.
This model is equipped with Suzuki's next-generation 4WD system ALLGRIP.
Production Model
Alto Eco: the most fuel-efficient non-hybrid gasoline-engine vehicle in Japan*1, a mini passenger car that achieved fuel economy of 35.0km/L in the JC08 test cycle*2.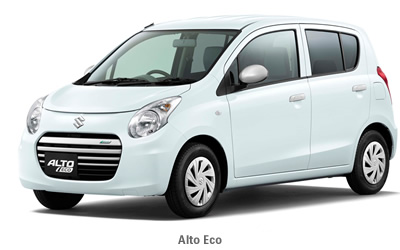 In addition to fuel-efficient technologies such as the ENE-CHARGE and the new Engine Auto Stop Start System, the Alto Eco has increased compression ratio and improved combustion of its engine, reduced friction resistance, and optimized powertrain control to realize fuel economy of 35.0km/L in the JC08 test cycle*2. It strikes a balance between fuel economy and brisk driving.
Red (Phoenix Red Pearl) and pink (Champagne Pink Pearl Metallic) were newly added to make the body color variation to seven colors.
*1 Based on Suzuki research in November 2013.
*2 Verified by Japan's Ministry of Land, Infrastructure, Transport and Tourism.
Production Models
| | |
| --- | --- |
| Compact cars: | Solio / Swift / Swift Sport |
| Minicars: | Wagon R / Wagon R Stingray / MR Wagon Wit / Spacia / Spacia Custom / Alto Lapin Chocolat / Jimny / Carry / Spacia (wheelchair-friendly model) |
Electro Vehicle
Reference Exhibit
ET4D Concept: an electro senior vehicle equipped with driver-assist functions for more ease of use, convenience, and safety.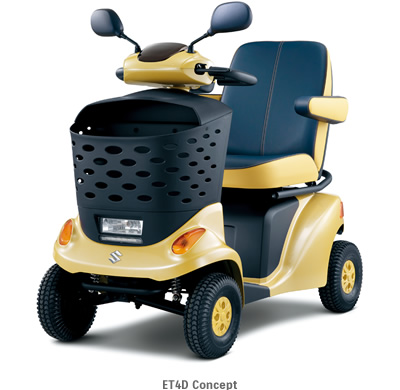 This is a concept model of an electro senior vehicle with advanced safety features such as a tilt display and voice instructions.
It has various driver-assist functions, such as a function to detect tilt of the vehicle and warn the driver by issuing a voice warning and alarm, and illuminating a tilt indicator light. It also has a function that gives voice instructions when the vehicle is turning left or right or when it is traveling in reverse.
With features such as an odometer, periodic maintenance advisory indicator light, and battery recharge advisory indicator light, this vehicle is safe and easy to use for seniors.
This model also has a large-capacity basket that's convenient for carrying shopping and other items.
Motorcycles
Reference Exhibit
Recursion: a compact roadster with sophisticated features of adults packed into a middle-class motorcycle.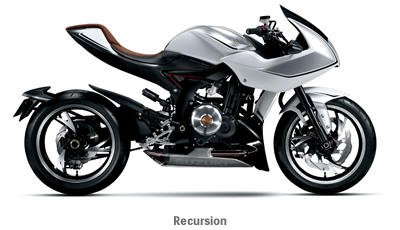 The Recursion compact roadster has a styling that gives form to the love of motorcycles, while striking a balance between the running performance of a large displacement motorcycle and the easy handling and economy of a middle displacement motorcycle.
By arranging a newly developed 588cm3 water-cooled in-line 2-cylinder engine with an intercooler turbo on its compact body, it realizes easy handling and economy on city streets, and an exhilarating, torquey ride on winding roads.
True to the name, Recursion is a model that brings back the basics of riding excitement in the diverse ways a motorcycle can be enjoyed.
EXTRIGGER: an electric mini motorcycle that offers new sensation to have fun.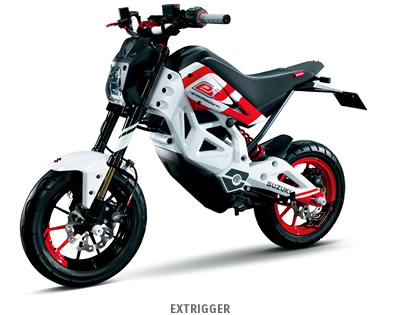 This is an electric motorcycle that was developed to give more people the chance to find out the fun of motorcycle. It is easy to ride and offers new sensation to have fun.
An electric motor unit of the e-Let's electric scooter is equipped on a compact frame similar to that of a small bicycle.
While it feels like a toy bike, the EXTRIGGER has features that are small but look like the real thing: aluminum frame, inverted front forks, front and rear disc brakes, and so on.
Making use of visible light communication technology, the rider can receive information from the motorcycle shop or enjoy communicating with friends.
The name EXTRIGGER is coined from EX, which stands for Electric CROSS (X) over, and TRIGGER, which means a chance. Our desire to give people a chance to get interested in motorcycles with this model is put into its name.
V-Strom 1000 ABS: the flagship model of the Sport Adventure Tourer.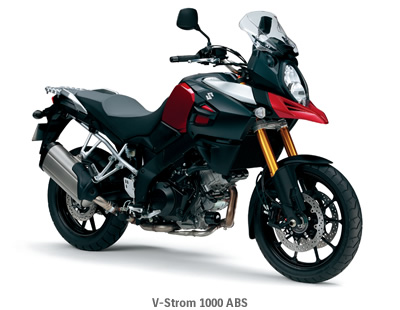 The export model V-Strom 1000 ABS is a reference exhibit.
As the flagship model of the Suzuki's Sport Adventure Tourer, it was developed to adapt to various riding situations and offer the fun of riding and comfortable long distance travel.
It is equipped with Suzuki's first traction control system, as well as ABS and other equipment.
Hayabusa: the Japanese specification of the flagship model Suzuki proudly offers.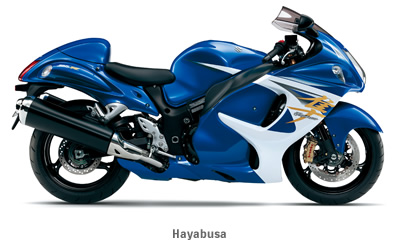 A reference exhibit of the Japanese specification of Suzuki's flagship model Hayabusa, aimed at making inroads into the domestic market.
It delivers equivalent power characteristics of overseas models, while clearing the certification standards of Japan.
It is the first* motorcycle in Japan to offer ETC (Electronic Toll Collection System) as standard equipment. ETC operation can be confirmed by an indicator in the meter panel.
* Based on Suzuki research in October 2013.
GSR250S*1: a half-faired model of the GSR250*2.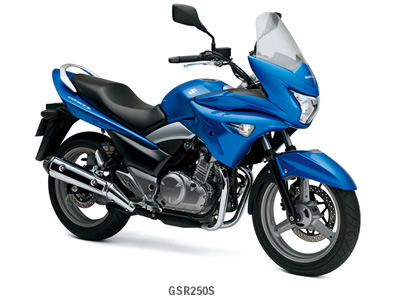 This model is a variation of the GSR250*2, a highly popular model that first went on sale in 2012.
Equipped with a newly designed half-fairing, which provides an excellent wind protection, it offers comfortable high-speed cruising.
The handlebars were raised and moved closer to the rider, creating a less bent-forward riding posture and improved riding comfort, especially when touring.
*1 Exhibited as GW250S at the Shanghai International Automobile Industry Exhibition in April 2013.
*2 GW250/INAZUMA in overseas market.
BURGMAN 200: a scooter that's lightweight, compact, and swift.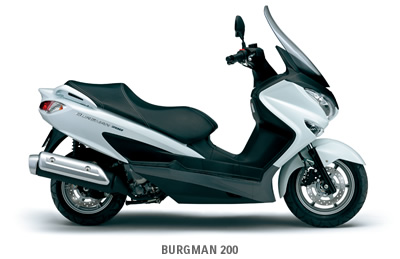 Suzuki will make a reference exhibit of the BURGMAN 200 scooter, which is scheduled to be introduced in Japan.
A 200cm3 engine is equipped on a compact frame, which realizes comfort and functionality that rivals a 250cm3-class scooter.
It has enhanced user-friendliness for daily usage, such as by adopting a multi-function meter, and by realizing a floorboard shape designed for better foot reach, and a low seat height.
The machine developed to participate in the MotoGP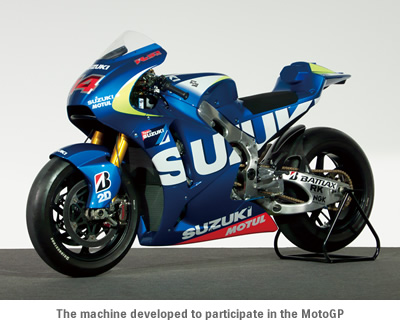 This machine is currently being developed to return to the MotoGP in 2015.
It is equipped with a newly developed in-line 4-cylinder engine that realizes high-level: engine characteristic to offer easy handling and deliver sufficient accelerating power; fuel efficiency; and durability.
It has adopted a frame layout with a suppressed width for both maneuverability and aerodynamic performance. By optimizing the frame rigidity and weight balance, it is aimed to create a highly-competitive MotoGP machine that can bring out the straightforward maneuverability developed over the years with the GSX-R.
Production Models
V-Strom 650 ABS / Skywave650LX* / GSR750ABS / e-Let's / DR-Z50
*BURGMAN 650 Executive in overseas market.
SUZUKI GREEN Technology
Creating vehicles that are more convenient and more fun, all while paying due consideration to protecting the environment. That is the idea behind the SUZUKI GREEN Technology. Suzuki builds small cars that incorporate next-generation technologies as we steer a course toward comfortable lifestyles and a bountiful future.

Technical Exhibit
Radar Brake Support - collision mitigation brake
Dual Jet Engine - highly-efficient gasoline engine
Lean-burn-controlled engine of the DF140A outboard
Air-cooled fuel cell system of the BURGMAN Fuel-Cell Scooter
Next-generation lightweight platform
Smartphone-linked car navigation system