24 September 2013
Suzuki wins 2013 Endurance World Championship title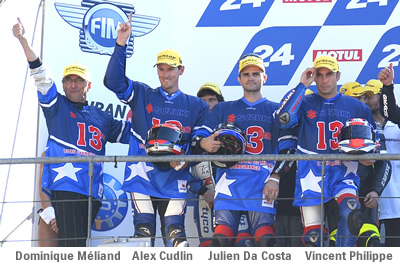 Suzuki Endurance Racing Team (SERT), a racing team supported by Suzuki France S.A.S. which is the French subsidiary of Suzuki Motor Corporation, has won FIM (Fédération Internationale de Motocyclisme) World Endurance Championship title for the fourth consecutive year, its 13th all-time title.
The World Endurance Championship is a production-based motorcycle endurance race championship, which Suzuki competes with its supersport model, the GSX-R1000.
SERT took the championship season point lead after the second round in Japan at the Suzuka 8 hours, and won the third round in Germany at the Oschersleben 8 hours. Although at the final fourth round in France, the Le Mans 24 hours, SERT finished at 26th due to a small crash and subsequent engine trouble, they showed stable performance throughout the year.
As a result, the championship season point became 93, which gave SERT 2013 World Endurance Championship title. Their fourth consecutive, 13th all-time title proved the high performance of the GSX-R1000.
2013 World Endurance Championship result of SERT
| Round | Race | Date | Location | Result |
| --- | --- | --- | --- | --- |
| 1 | Bol d'or 24-Hour | 20-21 April | France | 3rd |
| 2 | Suzuka 8-Hour | 28 July | Japan | 4th |
| 3 | Oschersleben 8-Hour | 17 August | Germany | 1st |
| 4 | Le Mans 24-Hour | 21-22 September | France | 26th |
Championship season point
| Result | Team | Point |
| --- | --- | --- |
| 1st | Suzuki Endurance Racing Team | 93 |
| 2nd | Yamaha France - GMT 94 - Michelin Yamalube | 88 |
| 3rd | SRC Kawasaki | 80 |