24 September 2013
Suzuki introduces new overseas motorcycle models for 2014
Suzuki Motor Corporation has introduced new overseas motorcycle models for 2014 during the 36th Le Mans 24-hours endurance race (24 Heures Moto), which was held at the Bugatti Circuit, located near Le Mans, France from 21 to 22 September, 2013.
The Sport Adventure Tourer, the V-Strom 1000 ABS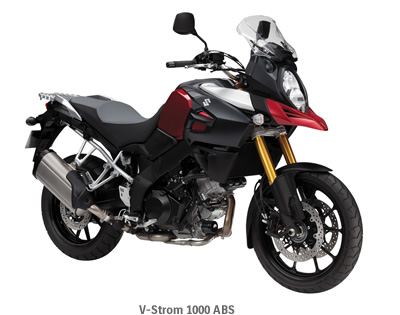 The V-Storm 1000 ABS is a production model based on a concept model exhibited at the INTERMOT International Motorcycle, Scooter and Bicycle Fair held in Cologne, Germany in October 2012. The styling design of the V-Strom 1000 ABS is inspired by the 1988 DR750S, Suzuki's first big on/off-road machine. It was developed to offer some of the best parts of the Sport Adventure Tourer such as the versatility, the fun of riding, and comfortable long distance travel. It has adopted comfortable riding position and low seat height, as well as newly-designed 1037cm3 V-twin engine and aluminum chassis. Also, it has equipped radial mount front brake calipers and ABS, while offering three modes* to Suzuki's first motorcycle traction control.
*Three modes: 1/2/OFF
Suzuki plans to produce the V-Strom 1000 ABS at its Toyokawa Plant in Japan from October 2013, and start exporting to areas including Europe, North America, and Oceania.
New scooter, the Burgman 125 / Burgman 200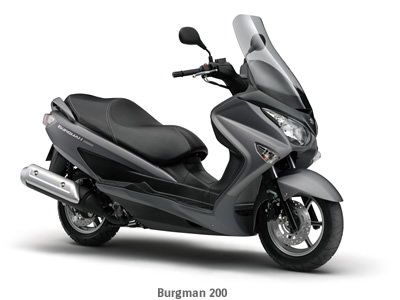 The Burgman 125 / Burgman 200 is an elegantly-designed scooter which has adopted a comfortable riding position and useful equipments. Its styling design inherits dual headlight and dual taillight, which is shared with the Burgman scooter series. It also expresses sporty styling with the sharp character lines in the front and the rear.
On its equipments, it has adopted an easy-to-read instrument and a long windscreen to provide wind protection, while also offering ABS range.
Suzuki plans to produce the Burgman 125 / Burgman 200 at its Thai subsidiary, Thai Suzuki Motor Co., Ltd. from September 2013. Followed by its export to Europe, and launch in Thailand, it is planned to be exported worldwide including North America and Oceania.