19 September 2013
Suzuki introduces the eco-car KARIMUN WAGON R in Indonesia

- Strengthening the production structure in Indonesia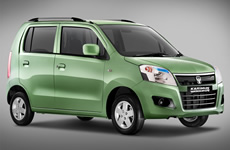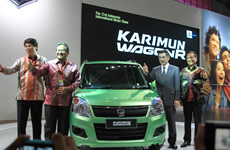 Suzuki Motor Corporation's Indonesian subsidiary PT. Suzuki Indomobil Motor (SIM) has started production of the 1000cm3 passenger car KARIMUN WAGON R from September 2013.
Toshihiro Suzuki, Executive Vice President of the Suzuki Motor Corporation has announced it at the Jakarta Motor Show which is being held from 19 September, 2013.
The KARIMUN WAGON R is a 1000cm3 passenger car with five seats that suit the Indonesian government's Low Cost Green Car (LCGC) policy. Its production has started from September 2013 at the Tambun Plant of SIM for sales in the Indonesian domestic market. The KARIMUN WAGON R is scheduled to meet the LCGC approval requirements by realizing low fuel consumption and increasing the local procurement rate.
Suzuki's automobile production result of FY2012 in Indonesia was 149,000 units. In order to meet the growing automobile market in Indonesia, Suzuki is already making investments to increase the internal production rate at the Tambun Plant. Also in 2012, 1.3 million m2 of land was purchased in Greenland International Industrial Center (GIIC), located in the east of Jakarta, where the new engine and transmission plant and the new automobile assembly plant are being constructed.
The internal production rate of the engine and transmission plant will be largely increased by partially moving the engine production of the Cakung Plant to completely produce the engines from casting and forging to machining, heat treatment, and assembly, while also increasing the production efficiency. It is scheduled to start its operation from February 2014, and eventually become a complete production structure in November 2014.
The automobile assembly plant is planned to start its operation from January 2015 by moving the production of the ERTIGA from the Tambun Plant. The KARIMUN WAGON R is also scheduled to be produced at the new plant in the future. With the new engine and transmission plant and the new assembly plant in operation, the production ability in Indonesia will be 250,000 units in FY2015. By looking at the market situation, the production ability will be increased. The total investment amount in GIIC will be approximately 93 billion yen.
With the launch of the KARIMUN WAGON R and the increase of production ability in Indonesia, Suzuki will position Indonesia as a significant hub in the ASEAN region, and will work on efficient production and sales increase.
Overview of PT. Suzuki Indomobil Motor
Location of the headquarters:
Jakarta
Representative:
Shuji Oishi, President Director
Capital amount:
45 million US dollars (Suzuki investment 90%)
Number of employees:
Approx. 4,400
Automobile models produced:
CARRY, APV, ERTIGA
Production result of automobiles:
149,000 units (FY2012)
92,000 units (FY2011)