10 September 2013
Suzuki announces partnership of outboard motors
with the French boat builder Bénéteau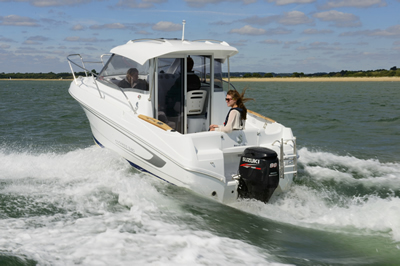 Suzuki Motor Corporation has announced on 10 September, 2013 at the Cannes Boat Show that it has agreed with the French boat builder Bénéteau for an exclusive supply of Suzuki outboard motors to their outboard powered boats sold in France, Italy, Germany and the UK.
For more information, please refer to the below press release.
Suzuki announces partnership with Bénéteau
Suzuki Motor Corporation has announced that it has entered into an exclusive partnership with Bénéteau for the supply of outboard powered boats into France, Germany, Italy and the UK. The agreement will see Bénéteau supplying its Flyer, Antares and Barracuda series into these markets packaged with Suzuki Outboard Motors.
Bénéteau is one of the world's leading boat builder and have been building boats for nearly 130 years. It manufactures a comprehensive selection of outboard powered sports and day boats as well as inboard boats and sailing yachts. These functional, multi-purpose boats have been created through a combination of Bénéteau expertise and the talent of some of the world's top designers. The result is a new benchmark in the nautical world: as easy to handle as they are to drive, maintain and transport, these boats are designed for a variety of on-water activities such as diving, fishing, water skiing or day cruising.
Suzuki manufactures and supplies Automobiles, Motorcycles and Outboard Motors around the world. Its products are designed and built with professionalism and passion for providing customers with value-packed products that delivers excitement and satisfaction.
Its range of four stroke outboard motors, are all technologically advanced, compact and fuel-efficient. With engine sizes from the lightweight and portable 2.5hp to the award winning power of the V6 300hp, Suzuki has an outboard for every application and is the perfect power source for Bénéteau's range of outboard powered boats.
Suzuki and Bénéteau have also agreed to undertake joint activities for future product development. Both companies focus all of their efforts into developing and applying advanced technologies to the products in response to market demands.
Masahiro Yamamoto, General Manager for Suzuki Marine European Liaison Office, said, "We are sure this joint activity will accelerate each company's product development and help create even more competitive, high performance and high quality products as complete boat and engine packages. We believe we can provide customers with the best products in the market and that our on-going efforts will be mutually beneficial and bring sustainable growth for both parties."
The new partnership was also announced by Bénéteau at the Cannes boat show on September 10th.