6 September 2013
Suzuki SX-4 S-CROSS rolls off the line in Hungary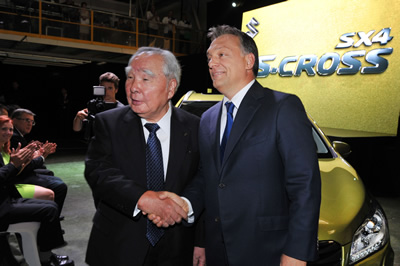 Suzuki Motor Corporation has held a ceremony for the brand new C-segment crossover SX4 S-CROSS as it rolled off the production line of Suzuki's Hungarian subsidiary, Magyar Suzuki Corporation Ltd.
The ceremony welcomed guests including Dr. Viktor Orbán, Prime Minister of Hungary, and Tadamichi Yamamoto, Japanese ambassador to Hungary. Osamu Suzuki, Chairman and CEO of Suzuki Motor Corporation attended the ceremony from Suzuki.
Suzuki's first C-segment crossover SX4 S-CROSS is a model which achieves a remarkable combination of styling, utility, performance and fuel economy. It is a model which can offer great driving enjoyment and versatile family usage for even more people in an even wider range of situations.
The initial production and sales volume is planned to be 100,000 units for the first year. From this autumn, SX4 S-CROSS is planned to be supplied not only throughout Europe including Hungary, but will also be exported to markets including Oceania, Asia, the Middle East and Latin America as a world strategic model.
Major specifications and features of SX4 S-CROSS
Specifications
- 1.6L petrol/diesel engine
- Overall length 4,300mm x overall width 1,765mm x overall height 1,575~1,580mm
Features
- Distinctive crossover styling
- Class-leading passenger and luggage space
- Next-generation 4WD with ALLGRIP technology
- Some of the lowest CO2 emissions in its category
- World's first* double sliding glass sunroof
*Based on Suzuki's internal research.