20 April 2013
Suzuki announcements at the
Shanghai International Automobile Industry Exhibition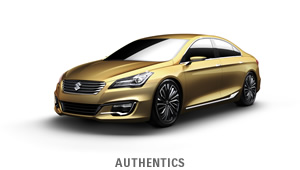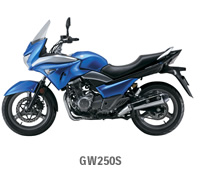 Suzuki Motor Corporation has made the following announcements at the 15th Shanghai International Automobile Industry Exhibition which is being held from 20 April, 2013* in Shanghai, China.
*Press day: 20 April, 2013 / Public days: 21 to 29 April, 2013
Concept model "AUTHENTICS"
Suzuki has made world premiere of the C-segment sedan concept model "AUTHENTICS". "AUTHENTICS" is a concept model of the authentic sedan presented to the C-segment sedan class, which has the largest volume in the Chinese automobile market.
Design
- By keeping its overall height low and adopting a long wheelbase, it realizes a stable authentic sedan style.
- The main characteristics are its sharp and sporty character lines and an inflected body shape with an elegant curved surface.
Suzuki plans to produce and distribute the production model based on "AUTHENTICS" by the end of 2014 at its joint venture in China, Chongqing Changan Suzuki Automobile Co., LTD.
Also, by distributing the "SX4 S-CROSS" (Chinese spec), which will be produced from the end of 2013 at the same joint venture, Suzuki will seek to expand its shares in China.
New motorcycle "GW250S"
Suzuki has made world premiere of the new "GW250S", a model that has equipped a half-fairing on the on-road motorcycle "GW250", which is being produced by Suzuki's joint venture in China, Changzhou Haojue Suzuki Motorcycle Co., LTD., and favored not only in China but also in Japan, Europe, etc.
By equipping a half-fairing, it gives a sportier image while increasing wind protection such as when riding on highways. Also with the higher handlebar, it realizes a more comfortable riding position.
Suzuki will launch the "GW250S" in China, and plans to distribute them in the overseas market.
Global Suzuki special website for Auto Shanghai:
https://www.globalsuzuki.com/shanghai2013/
YouTube Global Suzuki Channel:
http://www.youtube.com/user/GlobalSuzukiChannel