19 March 2013
Suzuki's Thai subsidiary launches a three-row compact car Ertiga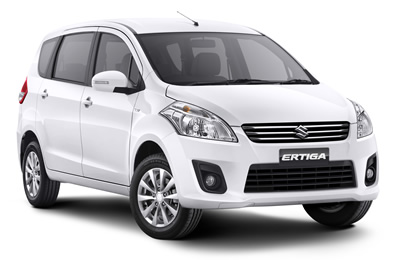 Suzuki Motor Corporation's subsidiary in Thailand, Suzuki Motor (Thailand) Co., Ltd. (SMT) has launched a three-row seven-seater compact passenger vehicle Ertiga on 19 March, 2013 for the Thai domestic market.
Ertiga, which was first launched in India and Indonesia in April 2012, is favored for its compactness while offering spacious and comfortable cabin space where adults can be seated at the third row without feeling crammed, as well as for its size which contributes to good maneuverability. Since its launch, the Ertiga is contributing to Suzuki sales in those countries with accumulated sales of 71,000 units in India, and 46,000 units in Indonesia (as of the end of February 2013).
In the recent years, the demand for compact cars and MPVs are increasing in the Thai automobile market. In order to expand its lineup, SMT will import Ertiga which is being produced by Suzuki's subsidiary in Indonesia, PT. Suzuki Indomobil Motor (SIM), with initial annual sales target of 6,000 units. SMT will also exhibit Ertiga at the 34th Bangkok International Motor Show, which will be held from 26 March, 2013.
SMT has been importing and distributing CBU models such as APV and Grand Vitara from SIM, but has started its own production and distribution of the compact car Swift from March 2012, as well as its export to Australia and Indonesia.
In order to meet the increasing demand in both Thailand and Indonesia, Suzuki will mutually complement models produced in both countries, and promote to make a structure with those two hubs as the exporting hubs of the ASEAN region.