7 December 2012
Suzuki ends 2012 on a high with new product announcements at the Paris Boat Show
Every year Suzuki continues to develop new technology and products in response to consumer demand and 2012 has been no different. Not satisfied with launching six new models already this year, Suzuki has decided to finish the year on a high and kick-start the 2013 boating season by unveiling even more new product developments.
During a special media conference at the Paris Boat Show, Suzuki announced that it would be launching additional versions of 175hp and 150hp models (DF175 and DF150), which will benefit from its innovative Suzuki Lean Burn Control System as well as its Suzuki Precision Control (Electronic Throttle and Shift Systems). This will make them even more fuel-efficient and even more popular with boaters.
Next to be announced was a new high thrust version of the already popular DF60A Lean Burn - the new DF60AV 'High Energy Rotation'. By adopting a newly designed lower unit with a 2.42:1 gear ratio it enables this new model to use a bigger 14-inch propeller. The DF60AV 'High Energy Rotation' will be perfect for powering large, heavy craft, from family boating to commercial use.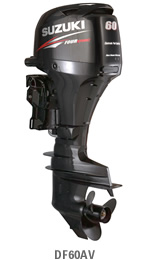 Lastly, Suzuki has followed up the successful launch of the new DF20A Lean Burn earlier this year, by revealing that it will be introducing a version with Power Tilt - the new DF20AT. This new model will be the lightest 20hp outboard on the market with Power Tilt and is the only 20hp outboard with Electronic Fuel Injection and Power Tilt, which massively enhances its usability.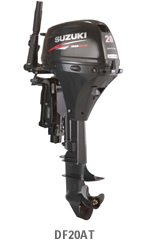 Production of all these new models is due to commence in 2013 and looking further ahead, Suzuki's engineers also gave the attending media a glimpse of some concept products. The first of these was the DF300+, which is set to utilize a Suzuki Ram Air Direct system to improve air intake efficiency and increase power, a unique Carbon Fibre engine hood which weighs less than the current model and also a specially designed low-drag gear case. All of these features are intended to reduce weight, emissions and improve fuel economy in order to make Suzuki's flagship model even more environmentally friendly.
To further Suzuki's desire to offer more efficient and environmentally friendly products, it also revealed that work has commenced to develop a range of Titanium propellers. These will be lighter in weight and more durable than the current aluminium and stainless steel versions.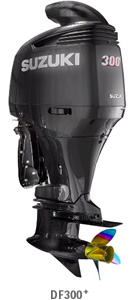 Speaking at the Paris Boat Show, Motoo Murakami, Managing Officer of Suzuki Motor Corporation said, "Our engineers in Japan are continually working to deliver new technology and new products to ensure that we are able to offer both leisure and commercial boaters the very best range of outboards possible. I am very proud to announce these new models and to be able to give you an insight into what the future holds for Suzuki's marine product development."