27 September 2012
Suzuki introduces concept model S-Cross at the Paris Motor Show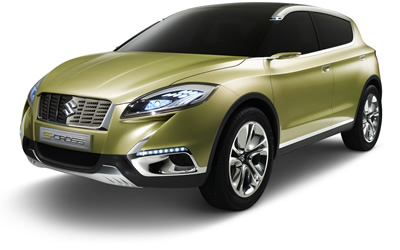 Suzuki has introduced its first C segment*1 crossover concept model S-Cross at the Paris Motor Show (Mondial de l'Automobile 2012), which is taking place in Paris from 27 September, 2012*2.
*1: Vehicle classification used mainly in Europe, which suggests a vehicle length between 4.2m and 4.4m.
*2: Press days from 27 to 28 September, 2012. Public days from 29 September to 14 October, 2012.
Design overview of the concept model S-Cross
Emotion is expressed by dynamic lines running from the front bumper to the rear of the body, by chrome-plated features which extend deep into the body from LED foglamps in the front bumper, and by LED headlamps and tail lamps with organic designs suggesting the muscles of an animal.
Quality is expressed by a mesh front grille consisting of dark chrome and silky chrome and by innovatively designed roof rails which are flush with the roof line when not in use.
Aerodynamics is expressed by a roofline which slopes downwards towards the rear and by smooth contours on the sides of the front bumper, at the bottom of the doors and on the sides of the rear bumper. The shape of the body helps the vehicle meet increasingly tough demands for fuel economy.
Crossover toughness is expressed by a front skid plate, by boldly flared wing arches and under mouldings, and by 20-inch chrome wheels.
At the press conference held on 27 September, 2012, Kenichi Ayukawa, Managing Officer and Executive General Manager Global Automobile Marketing, Suzuki Motor Corporation announced the following.
Our plan is to launch the production model of the S-Cross by the end of 2013. With its launch, it will join our lineup which covers the A, B and C segments of passenger cars and SUVs, to meet the needs of an even wider range of customers.
From next year on, we plan to bring new models to Europe every year.