29 June 2012
Suzuki launches large displacement motorcycles in China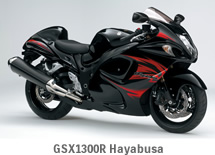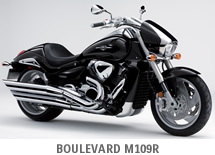 Suzuki Motor Corporation will launch two large displacement motorcycles in China from 1 July, 2012 through its motorcycle production and sales joint venture company Jinan Qingqi Suzuki Motorcycle Co., Ltd. and sales subsidiary Suzuki Motor (China) Investment Co., Ltd.
Although transportation is the main usage of motorcycles in China, due to the increase of income and changes in lifestyles in the recent years, demand for high pleasure motorcycles is increasing year after year.
In order to meet such demand, Suzuki will pioneer the Chinese market by introducing large displacement motorcycles that are sold in European and North American markets.
The two models are Suzuki's flagship motorcycle GSX1300R Hayabusa (displacement 1300cm3) and cruiser type BOULEVARD M109R (displacement 1800cm3). By making CBU exports from Japan, they will be sold at a dealer in Beijing and two dealers in Shanghai. The sales channel is planned to be expanded gradually in the future, mainly to large cities where demand can be expected.