4 June 2012
Maruti Suzuki India Ltd. signs an agreement with the Gujarat state for land purchase

Plans to construct a new plant in the vicinity of Mehsana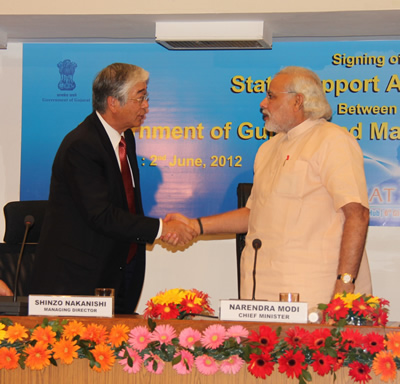 Suzuki Motor Corporation's subsidiary in India, Maruti Suzuki India Ltd. has signed an agreement to purchase land approximately 2.8 million m2 (700 acres) for the new automobile plant, with the Gujarat state, located in western India.
The land purchase is in line with the long-term management strategy to strengthen the production capacity of Maruti Suzuki to meet the growing automobile market in India. With the purchase of this land, the new plant in Gujarat will join the two existing plants in Gurgaon and Manesar, both located in Haryana.
The location of the new plant is suited for Maruti Suzuki's production and export hub, with approximately 100km away from Ahmedabad, the largest city in Gujarat, and approximately 300km away from the Mundra port, a major exporting port in Gujarat.
Maruti Suzuki is in need of renewal of the aged building of the Gurgaon plant, and the efficiency of production and logistics is becoming less with many traffic jams happening as the neighboring area of the plant rapidly urbanizes.
For this reason, Manesar plant is also strengthening its production capacity. The third assembly line (Manesar C line) is scheduled to start its operation in mid 2013 with its production capacity of 250,000 units. With this line in operation, the total annual production capacity of Maruti Suzuki would be 900,000 units in Gurgaon plant and 850,000 units in Manesar plant, a total of 1.75 million units.
Maruti Suzuki plans to start the construction of the new plant in Gujarat after the Manesar C line officially starts its operation. The plant in Gujarat is planned to start its operation from between 2015 and 2016. The initial production capacity of the plant is expected to be 250,000 units with the total investment amount of approximately 60 billion yen (40 billion rupees). With this plant in operation, the annual production capacity of the Maruti Suzuki would be 2 million units.