4 June 2012
Suzuki supplies outboard motors to the participant of the Thames Diamond Jubilee Pageant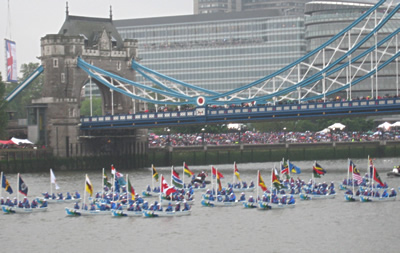 Suzuki Motor Corporation's sales subsidiary in the UK, Suzuki GB PLC has supplied 55 units of four-stroke outboard motor DF2.5 to the Sea Cadets, a participant of the Thames Diamond Jubilee Pageant which was held on 3 June, 2012.
The Sea Cadets is a non-profit organization that carries out marine education of young boys and girls of the UK. Suzuki GB has been partners with the Sea Cadets since 2010, and has been providing outboard motors to them. Upon participating to the Thames Diamond Jubilee Pageant with the young boys and girls on board to their small boats, Suzuki's DF2.5 was decided as the best match for those small boats. DF2.5 was equipped on all 55 boats participated in the pageant. DF2.5 is the lightest outboard motor in the Suzuki lineup, equipped with 68cm3 four-stroke engine.
The pageant celebrated the Diamond Jubilee of Queen Elizabeth II, with more than 1,000 ships and boats to make up the biggest event on the Thames River, traveling the distance of approximately 11km.
The 55 boats equipped with Suzuki DF2.5, led the Queen's barge through the Thames River in the diamond formation with boys and girls from the UK and the Commonwealth nations aged between 12 and 17 on board.
Approximately one million citizens and tourists gathered around the Thames River to celebrate the Diamond Jubilee.