24 May 2012
Suzuki wins the India Design Mark 2012

The award goes to Swift and WagonR, produced and distributed by Maruti Suzuki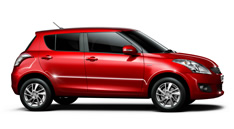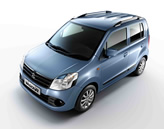 Compact cars Swift and WagonR, produced and distributed by Maruti Suzuki India Ltd., a subsidiary of the Suzuki Motor Corporation, have won the India Design Mark 2012, the first design award established in India.
With the support of the Japan Institute of Design Promotion, and by taking Japan's Good Design Award as its model, the India Design Mark was started from this year by the India Design Council, an organization related to the Ministry of Commerce and Industry. It is a design award with main objectives to clarify the standard of a good design and to enhance the Indian industry as well as to heighten the social recognition of the significance of design.
The award-winning compact cars Swift and WagonR were India's best-selling models in its class with the sales of 150,000 units each in the fiscal year 2011.
Features of the award-winning models
The features of the Swift are its sophisticated exterior design which makes it feel free and stable, and a sporty interior design with heightened texture and functionality.
The WagonR is a wagon type passenger vehicle with features such as a spacious and a comfortable cabin, seats that allow people to step in and out with ease, and a convenient luggage space. It is a compact passenger vehicle based on the WagonR sold in Japan, which the Indian designers of the Maruti Suzuki have included design factors preferred in India.