23 April 2012
SIM launches the new compact car Ertiga in Indonesia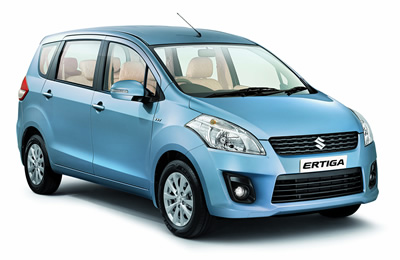 Suzuki Motor Corporation's subsidiary in Indonesia, PT. Suzuki Indomobil Motor (SIM), has launched a three-row passenger vehicle Ertiga on 22 April, 2012.
Ertiga was first launched in India on the 12th of this month. Indonesia is the second country which it has been launched. The Ertiga sold in Indonesia is produced at a SIM plant.
By launching Ertiga to the MPV (Multi-Purpose Vehicle) category, which covers approximately 60% of passenger vehicles in Indonesia, SIM will meet many customers' needs. The initial production and sales plan for the first year is 50,000 units.
In the launch ceremony held on 22 April, 2012, Toshihiro Suzuki, Executive Vice President of the Suzuki Motor Corporation attended and gave a speech, "Ever since Suzuki started its production in Indonesia from 1976, throughout these 36 years, we have always been providing products that satisfy customers in Indonesia. We strongly feel that the Ertiga will also be a product that satisfies people in Indonesia."