16 April 2012
Suzuki starts construction of the second plant of the Chongqing Changan Suzuki in China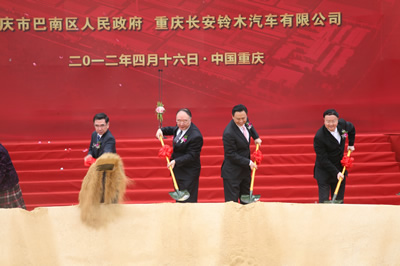 Chongqing Changan Suzuki Automobile, Co., Ltd. (Changan Suzuki), an automobile manufacturing and sales joint venture company in China, has conducted a groundbreaking ceremony of its second plant on 16 April, 2012.
Suzuki jointly established Changan Suzuki with Changan Automobile Co., Ltd. in 1993. Ever since the beginning of production of the Alto in May 1995, Changan Suzuki has been producing and distributing unique vehicles that are appreciated by the Chinese customers, such as Cultus, Swift, and SX4 for 19 years.
Changan Suzuki's current plant in Banan District, Chongqing has an annual production capacity of 250,000 units. To meet the expanding Chinese automobile market and promptly establish an annual capacity of 500,000 units, Suzuki has decided to construct its second plant in the area next to its current plant.
The annual production capacity of the second plant will be 150,000 units. It is scheduled to expand its capacity as the market expands. The construction will be finished in the summer of 2013, and is planned to start production in December. The production capacity of the engines in the current plant will also be strengthened to meet the production of the second plant.
The groundbreaking ceremony welcomed guests such as Huang Qifan, Mayor of Chongqing, Tong Xiaoping, Vice Mayor of Chongqing, and Chiharu Tsuruoka, Principal Officer of the Consulate-General of Japan at Chongqing. The ceremony was also attended by Xu Liuping, Chairman of the Changan Automobile, Zhang Baolin, President of the Changan Automobile, Toshihiro Suzuki, Executive Vice President of the Suzuki Motor Corporation, and Changan Suzuki dealers.
Overview of the Chogqing Changan Suzuki Automobile Co., Ltd.
Location:
Banan District, Chongqing
Establishement:
25 May, 1993 (production started in May 1995)
Capital amount:
190 million US dollars (1,298,574 thousand CNY)
Capital investment rate:
Suzuki Motor Corporation 25%
Suzuki China 10%
Sojitz Corporation 14%
Changan Automobile 51%
Number of employees:
4,343 employees (as of the end of March, 2012)
Chairman:
Zhang Baolin
CEO:
Tadashi Kondo
Producing model:
Swift, SX4, SX4 Sedan, Alto, Cultus
FY2011 production result:
209,692 units (100.9% year-on-year)
FY2011 sales result:
208,940 units (100.4% year-on-year)
Overview of the second plant
| | |
| --- | --- |
| Location: | Banan District, Chongqing (200m southwest of the current plant) |
| Site area: | Approx. 1.347 million m2 |
| Building area: | Approx. 92,000 m2 |
| Number of employees (plan): | Approx. 3,000 employees |
| Production type and capacity: | Automobiles, 150,000 units (maximum production capacity) |