12 April 2012
Maruti Suzuki launches the new compact MPV "Ertiga" in India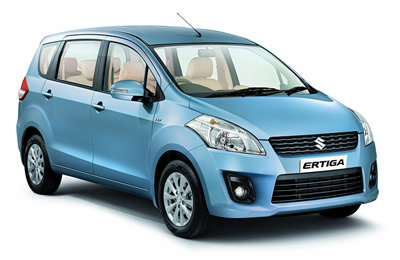 Maruti Suzuki India Limited, a subsidiary of the Suzuki Motor Corporation, has launched the new three-row, seven-seater MPV "Ertiga" on 12 April, 2012.
In India, the mainstream of a three-row vehicle is relatively large vehicles with engine displacement over 2L. Ertiga is compact while offering spacious and comfortable cabin space where adults can be seated at the third row without feeling crammed. The size also contributes to good maneuverability, and the small displacement 1.4L gasoline and 1.3L diesel engine also realizes fuel efficiency and economy.
By launching a new category "Compact MPV" to the Indian market where families are comprised with comparatively many members, and by adding it to the lineup, Maruti Suzuki India Limited will meet many customers' needs.