21 March 2012
Suzuki starts production and sales of the new Swift in Thailand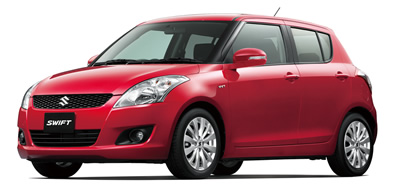 Suzuki Motor (Thailand) Co., Ltd., a production and sales subsidiary of the Suzuki Motor Corporation, has made an announcement of the start of production and sales of the new Swift on 21 March, and will start its sales from the 22 March. The new swift conforms to the eco-car project which the Thai government has been promoting.
The eco-car project is a project promoted by the Thai government, aimed to increase the production of environmentally friendly compact passenger vehicles. Suzuki received its approval for eco-car production by the Thai government in December 2007. After the ground-breaking ceremony in November 2009, it started its production of the new Swift at the new plant in March 2012.
The new Swift is also being produced in Japan, Hungary, and India, achieving high appraisal worldwide for its driving performance and design. Suzuki will distribute the Thai-produced new Swift in Thailand, and is also scheduled to export them to the neighboring ASEAN countries.
In the release ceremony of the new Swift held on 21 March in Bangkok, the capital of Thailand, Toshihiro Suzuki, Executive Vice President, Suzuki Motor Corporation, was present to make a speech, stating "We would like to take hand-in-hand with the people in Thailand to assist our customers' wealthy lives with their vehicles by delivering valuable products to the customers in Thailand and to the customers worldwide from Thailand."
Overview of Suzuki Motor (Thailand) Co., Ltd.
Location:
Hemaraj Eastern Seaboard Industrial Estate, Rayong Province
Representative:
Takayuki Sugiyama
Capital:
8,682 million baht (approx. 21.7 billion yen)
100% Suzuki investment
Number of employees:
452 persons (as of January 2012)
2011 (Jan.-Dec.) sales result:
9,688 units
2012 (Jan.-Dec.) sales plan:
Approx. 20,000 units
(of which 10,000 units are Swift)