1 February 2012
Suzuki at the 82nd Geneva Motor Show
The next-generation global compact car G70 makes an European premier
Swift Range Extender makes an European premier
At the 2012 International Motor Show in Geneva*1, Suzuki Motor Corporation will hold a press conference starting from 9:45am on 6th March, at stand number 4251 in hall 4. Suzuki will exhibit a range of models with its latest technologies. These models are a clear statement towards a new phase of motorization, from the Japanese manufacturer who is an expert of compact car development.
*1 The Geneva Motor Show 2012 is open to the public from 8th – 18th March. Press days are scheduled on 6th and 7th March.
G70*2: New vision for a compact car with minimized weight and elaborated aerodynamics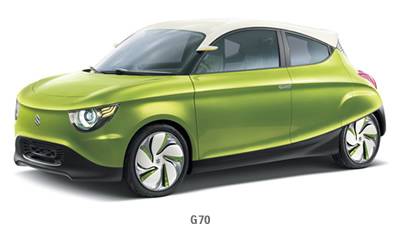 Suzuki proposes a vision of a next-generation global compact car. It's just 730kg thanks to a clear focus on minimizing weight, and it has a drag coefficient at least 10% lower than that of current Suzuki A-segment models, thanks to uncompromising efforts to heighten aerodynamic performance. As a result, its CO2 emissions is as low as 70g/km (measured in the New European Driving Cycle) with a petrol engine.
*2 This model was exhibited as "REGINA" in Tokyo Motor Show 2011.
Swift Range Extender*3: A compact electric vehicle extends a driving range with an engine-driven generator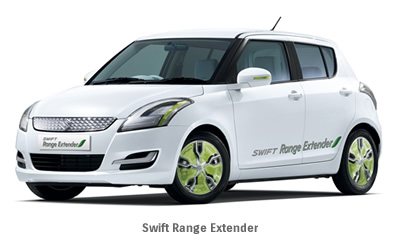 Since a Swift Plug-in hybrid based on a previous Swift was exhibited at Geneva Motor Show in 2010, Suzuki has further advanced its expertise in eco-car technology and this year showcases the Swift Range Extender based on a current Swift. The Swift Range Extender covers 30km*4 with its fully charged battery alone and it can extend its range using an engine-driven generator. Compared with an electric vehicle that depends entirely on battery power, the Swift Range Extender has a more compact lithium-ion battery that is quicker to charge, weighs less, uses fewer resources, and costs less.
*3 This model was exhibited as "Swift EV Hybrid" in Tokyo Motor Show 2011.
*4 The driving range figure is based on specified testing conditions. The actual driving range may differ depending on weather/driving conditions.