23 January 2012
New lightweight Suzuki DF20A/15A makes world debut at Düsseldorf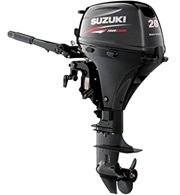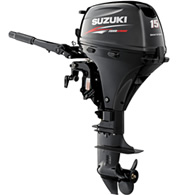 Suzuki announced the launch of two new fuel-efficient and high performance four stroke outboard motors – the all-new DF20A and the new generation DF15A.
These new models, which made their world debut at the Düsseldorf Boat Show on the 21st January 2012, will be the first in their class to feature battery-less Electronic Fuel Injection.
The new Electronic Fuel Injection system will also be combined with Suzuki's Lean Burn Fuel Control system, which will result in a number of benefits for boaters such as; easier starts, more responsive acceleration, smoother performance and above all, greater fuel efficiency.
To achieve this, Suzuki engineers have designed a completely new fuel injection system for these models, which includes; an inline high-pressure fuel pump, a throttle body and small fuel cooler, vapor separator and fuel injector. By designing these component parts to be smaller than those used on larger Electronic Fuel Injection engines (DF40-DF300) the overall weight of these new models has also been kept as low as possible.
According to Suzuki's internal testing, this means that at just 44kg the new models will be the lightest and most compact outboards in their class.
The compact size and light weight of the new DF20A and DF15A make them an ideal power match for a wide variety of boats, including; small RIBs and tenders, day boats for in-land waterways and small fishing boats to name but a few. In particular these new outboards will be ideal for entry level boating.
The new Suzuki DF20A and DF15A will be available in the early summer of 2012.
DF20/15 SPECIFICATIONS
DF20A
DF15A
ENGINE TYPE
4-STROKE OHC 4-VALVE
FUEL DELIVERY SYSTEM
ELECTRONIC FUEL INJECTION
RECOMMENDED TRANSOM HEIGHT mm(in.)
L: 508(20), S: 381(15)
STARTING SYSTEM
ELECTRIC
MANUAL
ELECTRIC
MANUAL
WEIGHT kg(lbs)


*with battery cable, without propeller & engine oil

L: 49(108)
S: 48(106)
L: 45(99)
S: 44(97)
L: 49(108)
S: 48(106)
L: 45(99)
S: 44(97)
NO. OF CYLINDERS
IN-LINE 2
PISTON DISPLACEMENT cm3(cu. In.)
327(20.0)
BORE × STROKE m/m(in.)
60.4 × 57(2.38 × 2.24)
MAXIMUM OUTPUT kW(PS)/rpm
14.7(20)/5,800
11.0(15)/5,500
FULL THROTTLE OPERATING RANGE rpm
5,300-6,300
5,000-6,000
STEERING
Tiller
OIL PAN CAPACITY lit.(US/Imp. qt.)
1.0(1.06/0.88)
IGNITION SYSTEM
DIGITAL CDI
ALTERNATOR
ELECTRIC: 12V 12A, MANUAL: 12V 6A
ENGINE MOUNTING
SHEAR MOUNT
TRIM METHOD
MANUAL TRIM AND TILT
GEAR RATIO
2.08: 1
GEAR SHIFT
F-N-R
EXHAUST
THROUGH PROP HUB EXHAUST
DRIVE PROTECTION
RUBBER HUB
PROPELLER SIZE (in.)
All propellers are the 3-blade type


○

:Standard 

●

:Optional

●

9-1/4 × 7


○

9-1/4 × 9


○

9-1/4 × 10


●

9-1/4 × 11

●

9-1/4 × 8 (Thick)


○

9-1/4 × 9 (Thick)


○

9-1/4 × 10 (Thick)