6 January 2012
Suzuki Exhibits for Auto Expo 2012 in New Delhi
Suzuki Motor Corporation's Indian automobile subsidiary, Maruti Suzuki India Ltd. and motorcycle subsidiary, Suzuki Motorcycle India Private Limited have exhibited the following vehicles at the 11th Auto Expo 2012 in New Delhi (held from 5th to 11th January 2012).
Exhibits of Maruti Suzuki India Ltd.
Three-row, seven-seater - MPV "Ertiga"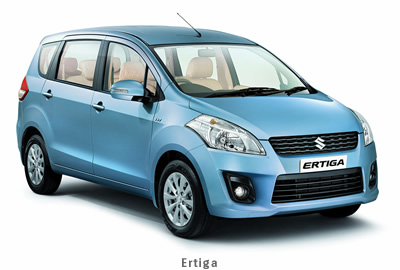 In India, families are comprised with more than 5 members at a high rate. With regard to this fact, Ertiga, the new compact 3-row, 7-seater developed to be comfortable even with 7 members on board, is exhibited. Aimed to fulfill the lineup and to meet the customers' needs, Maruti Suzuki has announced that the model will be launched in the spring of 2012.
The Ertiga is uniquely positioned with its lightweight and compact body and small engine displacement. The model is launched in India in the aim of pioneering a new market of compact 3-row seaters.
The Ertiga's compact body still offers spacious and comfortable cabin space where adults can be seated at the third row without feeling crammed. The size also contributes to good maneuverability.
The small displacement in engine also realizes fuel efficiency and economy. The engine line-up is 1.4L K14B petrol and 1.3L D13A diesel.
Compact SUV "Concept XAα"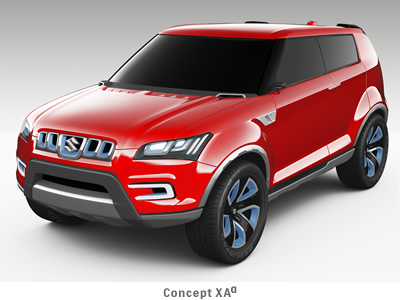 A concept compact SUV "Concept XAα" is exhibited as a new SUV suggestion to younger generation in urban areas in India.
Other exhibits
| | |
| --- | --- |
| Models produced and marketed in India: | ZEN Estilo, Wagon R, A-Star, Ritz, New SWIFT, SWIFT DZire, SX4 Sedan, Gypsy, Omni, Eeco |
| Models imported from Japan: | GRAND VITARA, Kizashi |
| Models marketed in Japan (reference exhibition): | MR Wagon, Palette SW, Solio, SX4 |
Exhibits of Suzuki Motorcycle India Private Limited
Fuel efficient, light, and compact 110cm3 motorcycle "Hayate"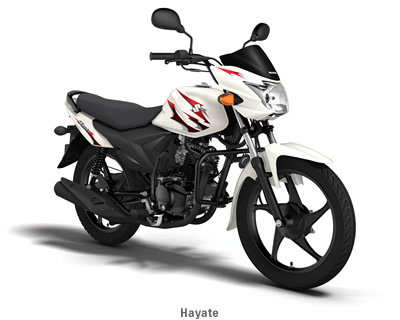 The Hayate has adopted a fuel efficient 110cm3 engine and a sporty design of a large displacement motorcycle. It is a motorcycle developed with an aim to be light and compact for easy handling while having a strong frame to support its stable performance.
Fuel efficient and stylish scooter "Swish 125"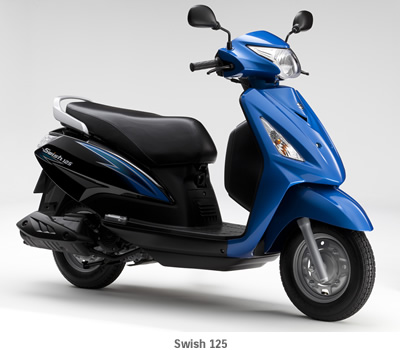 The Swish 125 has adopted a 125cm3 engine that is fuel efficient and quick to respond to the throttle. It is a sporty and stylishly designed scooter equipped with useful functions such as a large storage, appealing to the family and young users.
Other exhibits
| | |
| --- | --- |
| Models produced and marketed in India: | GS150R, SlingShot Plus, Access 125 |
| Models imported from Japan: | GSX-R1000, Hayabusa 1300,INTRUDER M1800R, INTRUDER M800 |
| Other models produced in Japan (reference exhibition): | e-Let's, GSR750A, V-Strom 650 ABS |