9 December 2011
Suzuki to launch the e-Let's, an electric scooter with a detachable battery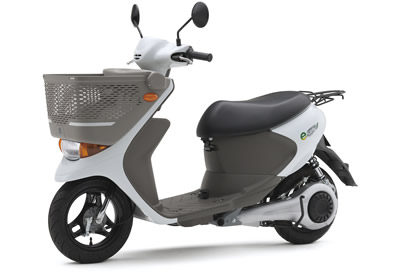 Suzuki Motor Corporation will launch the e-Let's, an electric scooter which has an enhanced usability by equipping a detachable battery, while keeping the user-friendliness of a 50cm3 engine powered scooter. The e-Let's will be launched on 9 January, 2012*1.
The e-Let's has been developed as an electric scooter which realizes low noise, low vibration, and zero-emission environmental performance. Its aim was to familiarize a practical electric scooter which a user of an engine scooter can switch to without any hesitation.
Based on the Let's4 Basket, a 50cm3 scooter favored for its user-friendliness, the e-Let's has combined a high-performance in-wheel motor with regenerative braking capability and a lithium-ion battery. In addition to a typical smooth acceleration and nimble performance of an electric scooter, it realized a curb weight*2 that is 2kg less than that of the Let's4 Basket.
The lithium-ion battery has a built-in Battery Management Unit (BMU) which monitors the battery status, and can be detached to be recharged. A single charge from a Japanese 100V household outlet takes approximately four hours, giving a range of about 30km (assuming the e-Let's is ridden at 30km/h on level roads*3).
The compartment under the seat can carry either a charger or a spare battery, thus making it more convenient to charge away from home. It can also extend its range by replacing with a fully-charged battery, so it can be utilized to suit the purpose.
In addition to the basic e-Let's which is equipped with a battery and a charger, the e-Let's W is also available, adding a spare battery.
In preparation for a future zero-emission society, Suzuki is working on reducing CO2 by developing next generation vehicles (electric and fuel cell vehicles) such as the e-Let's, as well as offering our customers the fun of motorcycles.
*1: The e-Let's will be launched for the Japanese domestic market only.
*2: The weight of the charger is not included.
*3: The range of a single charge is a figure under a certain test condition. The actual range may differ depending on the difference in condition (driving and maintenance situations).