13 October 2011
Overview of Suzuki exhibition at CIMAMotor 2011 in China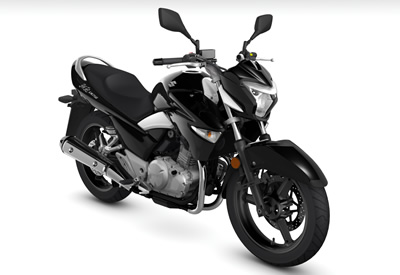 Dachangjiang Group Co., LTD, a technical partner for manufacturing Suzuki motorcycles in China, will exhibit the following models at the China International Motorcycle Trade Exhibition (CIMAMotor 2011), which will be held from 13 to 16 October 2011*.
*Public days 14 to 16 October 2011
Suzuki's Chinese flagship model "GW250"
In recent years, the size of the motorcycle market in China is exceeding 16 million units per year, mainly consisting of utility vehicles, which are used for transportation of people or baggage. However, in China, where the country's economy is rapidly growing, the number of users who prefer to ride or to own large displacement motorcycles, which are known for having high pleasures, is also increasing. In order to meet the new kind of needs, Suzuki has developed the new Chinese flagship model, the authentic 250cm3 on-road motorcycle "GW250".
Characteristics of "GW250"
Given the motif from "B-KING", the model which has brought a revolution to Suzuki's large motorcycle styling, "GW250" has adopted a modern, luxurious and dignified design. The next-generation, new liquid-cooled twin-cylinder engine has advanced environmental performance, and realizes low vibration and silence while having high output and durability. Upon its development, Suzuki has focused on achieving high quality and performance by newly engineering everything from engine to chassis in Japan, using technologies earned from development of large motorcycles, making it the Chinese flagship model which we can be proud of.
"GW250" will be manufactured by Changzhou Haojue Suzuki Motorcycle Co., LTD, a joint venture company of Suzuki and Dachangjiang, and will start its distribution in China from 2012. With its world-class quality, "GW250" is also scheduled to be exported to Europe, Indonesia, and Central/South America.
Main specifications of "GW250"
| | |
| --- | --- |
| Overall length x overall width x overall height: | 2,145 x 760 x 1,075 (mm) |
| Engine type and displacement: | Four-stroke, liquid-cooled, in-line two-cylinder 248cm3 |
| Fuel system: | Fuel injection |
Other exhibitions
-Reference exhibitions: FW110SR, GSR750, V-Strom650A
-Other existing models sold by Dachangjiang