2 July 2011
Construction of New Motorcycle Production Plant Commence in Philippines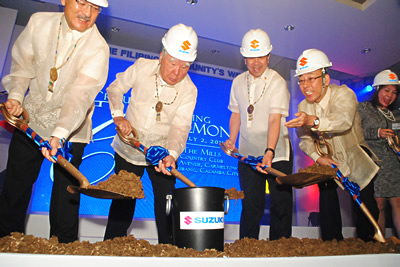 Suzuki Motor Corporation (SMC) will construct a new motorcycle production plant at Suzuki Philippines Incorporated, SMC's subsidiary for motorcycle production and sales and automobile sales in Philippines.
On 2 July, Osamu Suzuki, Chairman & CEO of SMC attended the groundbreaking ceremony held in Philippines, along with Gregory L. Domingo, Minister of Department of Trade and Industry in Philippines, Governor of Laguna, the location of the new plant, Jeorge E. R. Ejercito Estregan, and Toshinao Urabe, Japanese ambassador to Philippines.
The motorcycles market in Philippines is expanding year by year with 760 thousand units in 2010 (119% year-on-year). Suzuki Philippines started production of motorcycles in 1985, and produced approximately 85 thousand units last fiscal year (from April 2010 through March 2011). In order to meet increasing market demands for motorcycles market in Philippines, the new plant will be constructed in the Manila suburbs in Carmelray Industrial Park I, with the annual production capacity of approximately 200 thousand units. The investment for the new plant is expected to be approximately 2.1 billion yen, and it is scheduled to start operating in June 2012.
For the outlines of Suzuki Philippines and its new plant, please see below.
Outline for Suzuki Philippines
Company name:
Suzuki Philippines Incorporated
President:
Satoshi Uchida
Address:
Pasig City (8.5 km east of Manila)
Established in:
January 1985
Employees:
Approx. 400
Capital:
1 billion 660 million yen (100% SMC investment)
Production volume:
Motorcycles - approx. 85,000 units
(April 2010 - March 2011)
Outline for Suzuki Philippines New Plant
Address:
Carmelray Industrial Park I in Canlubang, Laguna
(45 km south of Manila)
Site area:
Approx. 127,000 m2
Building area:
Approx. 20,000 m2
Product line:
Motorcycles
(110cm3 to 150cm3 underbone and backbone)
Production capacity:
Approx. 200 thousand units/year (day/night shift)