27 June 2011
Suzuki starts to launch Sports Enduro Tourer,
the new "V-Strom 650 ABS" in Europe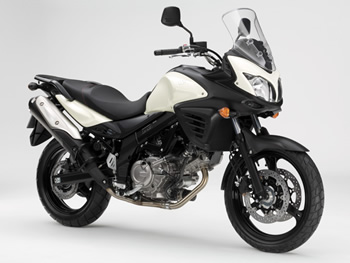 Suzuki Motor Corporation will launch Sports Enduro Tourer, the new "V-Strom 650 ABS" that's capable of enjoying from daily street riding to long-distance touring, from July in Europe. It is scheduled to expand its sales to North America and Oceania as well.
Ever since its launch in 2003, "V-Strom 650" has been favored in Europe and North America as "Sport Enduro Tourer", a motorcycle that's enjoyable from street riding to long-distance touring. By adopting high wind protection performance suited for highway riding, a comfortable seat and an upright position, and an easy-to-handle V-Twin engine, it is capable of meeting various motorcycle lifestyles.
The full-model change this time was realized by renewing it into a firm, sporty design, upgrading the front cowlings and windscreen to enhance the comfortableness in touring, and adding functions such as the gear position indicator to the instrument panel. The engine has been refined to make it easy to handle in the low-to-mid rpm range.
Main refinements of "V-Strom 650 ABS"
Sporty design composed of firm front cowlings and upward-looking muffler, and an enhanced comfortableness in touring by realizing high wind protection due to the modified shape of front cowlings and a windscreen, and increasing the information in the instrument panel by adding the gear position, ambient temperature and fuel consumption indicators.
The engine performance has been refined in the low-to-mid rpm range for easy handling in street and mountain path riding, where the range is most often used. Also, by reviewing the combustion efficiency, fuel consumption has been enhanced.
The handling of the machine has been enhanced by weight reduction of 6kg.
Electronically controlled Antilock Brake System (ABS), a system that aids the rider's braking within a certain range, is standard equipment for all specifications (all specification of the new V-Strom 650 is equipped with ABS).
Main specifications of the 2012 "V-Strom 650 ABS"
| | |
| --- | --- |
| Overall length x overall width x overall height | 2,290mm×835mm×1,405mm |
| Seat height | 835mm |
| Curb mass | 214kg |
| Engine type | 4-stroke, liquid-cooled, DOHC, 90° V-Twin |
| Displacement | 645cm3 |
| Fuel tank capacity | 20L |
| Tire size (front / rear) | 110/80R19 / 150/70R17 |