2 March 2011
The 81st Geneva International Motor Show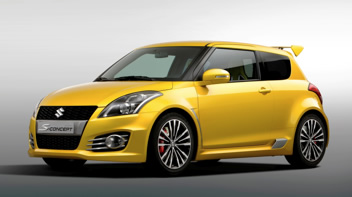 Suzuki exhibits the following model in the 81st Geneva International Motor Show. (Public days: 3 to 13 March 2011)
Swift S-CONCEPT
The SWIFT S-CONCEPT is based on the new generation of the Swift. Suzuki created it by adding sporting flavour to the Swift's stylish design in line with a "more sporty and exciting" theme.
Exterior design
The SWIFT S-CONCEPT is based on the new Swift, which Suzuki unveiled at the 2010 Paris Motor Show. It embodies the concept of creating a premium sport compact with uncompromised performance. The body is lower and 60mm wider than that of the standard Swift, so it has such a strong presence that it doesn't seem as compact as it actually is. Dynamic-looking front and rear bumpers and a big rear spoiler evoke high levels of acceleration and power, and 18-inch wheels give a sense of solidity and stability. The headlamps and rear combination lamps have exclusive designs with high-tech accents.
Colours
Suzuki's sporty DNA is reflected in a yellow body. Unique intensity and depth in the colour convey the excitement that's one of Suzuki's core values. Plus, the paint has a high lustre that looks different from different angles, conveying dynamism and speed. The yellow, black, and dark-grey metallic colour scheme for the exterior and interior was inspired by an athlete's running shoes.
Interior appointments
The steering wheel, seats, and meter clusters have exclusive designs. The cabin layout provides space for four adults. Bucket seats in the front enhance the driver's feeling of oneness with the car. Parts of the centre console are made of carbon fibre, which communicates a premium identity.
Specifications
| | |
| --- | --- |
| Overall length: | 3,890 mm |
| Overall width: | 1,755 mm |
| Overall height: | 1,475 mm |
| Wheelbase: | 2,430 mm |
| Engine: | M16A (1.6L) |
| Power train layout: | Front engine, Front-wheel drive |
| Tyres: | 225/45R18 |
| Transmission: | 6MT |
| Body colour: | LIGHTNING PEARL YELLOW ('11 Geneva Special Edition) |
Suzuki Swift reached 2 million units for global sales
Since the Swift reached European customers in first-generation of world strategic model, form in 2005, it has been a consistently popular member of Suzuki's compact-car line-up around the world. Combined worldwide sales of the first and second Swift generations reached two million units in January this year.