25 February 2011
Worldwide sales of Suzuki Swift reach two million units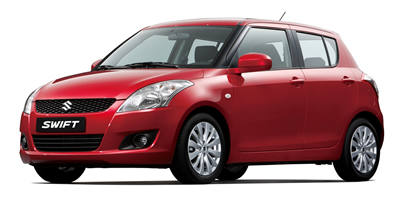 Suzuki Motor Corporation is pleased to announce that cumulative worldwide sales of the Suzuki's first world strategic car Swift reached two million units in January this year(six years and three months after the start of sales).
Suzuki launched the Swift as its first world strategic model in November 2004, initially producing and marketing it in Japan and later expanding production to other countries including Hungary, India, and China. Today, the Swift is driven in 124 countries and regions around the world.
The Swift reflects Suzuki's expertise in compact cars and dedication to creating models that are sporty, stylish, and fun to drive. 67 worldwide major accolades in 26 countries and regions including Asia, Europe and Oceania show how the Swift is well regarded.
The Swift's international popularity is reflected by the fact that about 15% of the two million units sold are in Japan, about 39% in India, and about 27% in Europe.
Cumulative worldwide production of the Swift reached one million units in June 2008 (three years and eight months after the start of production). The Swift was the quickest-ever Suzuki model to reach this production milestone. Cumulative worldwide production reached two million units in December 2010.
Swift milestones
| | |
| --- | --- |
| Nov. 2004 | Swift goes on market in Japan as Suzuki's first world strategic model. |
| Feb. 2005 | Production begins in Hungary. |
| May 2005 | Production begins in India. |
| Jun. 2005 | Production begins in China. |
| Sep. 2005 | Swift Sport goes on market in Japan. |
| Nov. 2005 | Swift wins 2006 RJC Car of the Year Award and 2005–2006 Car of the Year Japan "Most Fun" award. |
| Jun. 2008 | Cumulative worldwide production reaches one million units. |
| Jun. 2010 | Production of new Swift for Europe begins in Hungary. |
| Sep. 2010 | New Swift goes on market in Japan. |
| Nov. 2010 | New Swift wins 2011 RJC Car of the Year Award. |
| Dec. 2010 | Cumulative worldwide production reaches two million units. |
| Jan. 2011 | Cumulative worldwide sales reach two million units. |