24 December 2010
Suzuki launches new Solio compact wagon in Japan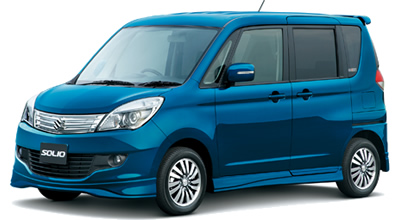 Suzuki Motor Corporation is pleased to announce the launch in Japan of the new Solio, a wagon that gives great fuel economy, has a tall, roomy cabin within a compact body, and offers the user-friendliness of left- and right-hand sliding doors. The new Solio will be available from Suzuki dealers in Japan from 7 January 2011.
The new Solio reflects a concept of developing a tall, compact wagon that's fun to drive, user-friendly, and outstandingly fuel-efficient. Its body is compact enough for great manoeuvrability on city streets but contains a roomy cabin. Convenient left- and right-hand rear sliding doors are complemented by a one-touch double-folding rear seat that permits a variety of seat arrangements. And a 1.2-litre engine delivers smooth, fuel-efficient performance. By being easy to drive, easy to use, and economical, the new Solio delivers everything expected of a compact car.
Suzuki created the new Solio to be an ideal choice for Japanese customers looking to move upscale from minicars and for those looking to downsize to a more compact model. Suzuki expects the new Solio to join the Swift as a pillar of its sales growth in the compact category.
Suzuki targets domestic yearly sales of 12,000 units.
Suzuki will supply about 800 units per month of the new Solio to Mitsubishi Motors Corporation. The OEM agreement is limited to the Japanese market.
Major features
(1) Class-leading1 cabin spaciousness within a manoeuvrably compact body
(2) User-friendly left- and right-hand rear sliding doors and a range of seat arrangements
(3) Smooth performance with class-leading1 fuel economy of 22.5km/L2
(4) Refined interior and exterior designs that appeal to people across a wide range of ages
(5) A comfortable ride and high levels of safety
1 The class encompasses tall, compact wagons with engine displacements of 1.5L or less, overall heights of 1,550mm or more, two rows of seats, and five doors. Suzuki's information on cars in this class is based on its research findings as of December 2010.
2 The fuel economy was measured in Japan's 10-15-mode test cycle and verified by Japan's Ministry of Land, Infrastructure, Transport and Tourism.