18 November 2010
New Swift wins 2011 RJC Car of the Year award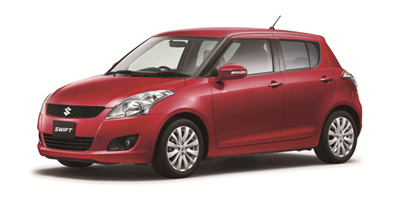 *Japanese specification model
Suzuki Motor Corporation is pleased to announce that the Automotive Researchers' and Journalists' Conference of Japan (RJC) has selected the new Swift for the 2011 RJC Car of the Year award. The new Swift is the fourth RJC Car of the Year winner for Suzuki (following the Wagon R in 1993, the Swift in 2006, and the Wagon R and Wagon R Stingray in 2008).
The Swift debuted in 2004 as Suzuki's first world strategic model. It won the 2006 RJC Car of the Year award for its superior performance, class-eclipsing comfort, and combination of comprehensive standard-availability equipment and reasonable sticker price. The Swift also won numerous other awards around the world. More than 1.8 million units of the Swift have been sold in 124 countries and regions.
The new Swift debuted in August 2010 in Japan. It has earned acclaim not only in Japan but also in Europe, where it shines in a crowded market for compact cars. It's highly regarded for its handling stability and ride comfort, its interior quality, and the performance and fuel economy in actual traffic realized by its auxiliary-gearbox-equipped continuously variable transmission.
Overview of the 2011 RJC Car of the Year award
The RJC Car of the Year award was launched in 1991. For the 2011 award, domestic models that were launched in the period from 1 November 2009 to 31 October 2010 were evaluated. A vote on 1 November narrowed the field to six models, and a vote on 16 November determined the winner.