24 September 2010
Suzuki develops e-Let's electric scooter, begins trials on public roads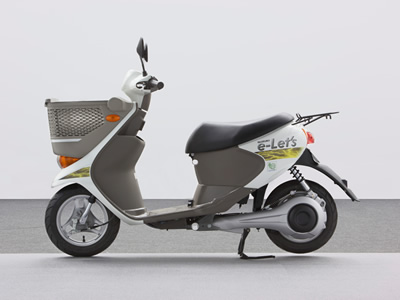 Suzuki Motor Corporation has completed a prototype of an electric scooter named the e-Let's and has begun studying its operation on public roads in Japan. Suzuki was able to begin the on-road trials after registering the e-Let's as a moped with the local authorities on 21st September and obtaining a number plate for it. Suzuki plans to use the resulting data in development efforts aimed at creating a production model.
The e-Let's is based on a petrol-engine scooter called the Let's4 basket. It has a high-performance in-wheel motor with regenerative braking capability; a lithium-ion battery; and a charging system within a compact, lightweight chassis. It weighs almost the same as the petrol-engine model. Also, it offers the smooth acceleration, nimble performance, low noise, low vibration, and zero-emission environmental performance that characterize electric scooters. The battery is charged from a 100V household outlet. A single charge takes about four hours and gives a range of about 30km (assuming the e-Let's is ridden at 30km/h on level roads).
Trials of the e-Let's will also be conducted as part of the Hamamatsu Social Experiment Project on Next-Generation Eco-Cars, which brings together companies, educational institutions, and local-government bodies under the leadership of Suzuki's home city, Hamamatsu.
Overview of e-Let's prototype electric scooter
| | |
| --- | --- |
| Overall length x overall width x overall height | 1,665mm x 600mm x 983mm |
| Weight | 74kg (including battery) |
| Seating capacity | 1 person |
| Motor | AC synchronous |
| Rated output | Under 0.6kW |
| Riding range | 30km (at 30km/h on level roads) |
| Charging time | Approx. 4 hours at 100V |
| Battery | Lithium-ion |