11 June 2010
New Swift goes into production at Magyar Suzuki in Hungary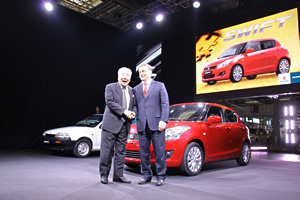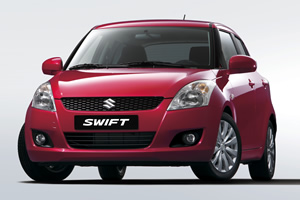 Suzuki Motor Corporation is pleased to announce that it has completed a full model change with the Swift and that its Hungarian subsidiary, Magyar Suzuki, began producing the new Swift on 10 June.
Suzuki launched the Swift as a world strategic model in 2004 in markets including Japan, Europe, China, and India. Accolades in Japan have included the 2005–2006 Car of the Year Japan "Most Fun" award and the 2006 Automotive Researchers' and Journalists' Conference of Japan (RJC) Car of the Year Award. The popular compact model has also earned high praise and numerous awards for its performance and design in other countries around the world. Worldwide sales exceed 1.65 million units*.
Production of the new Swift began at Magyar Suzuki in Hungary on 10 June ahead of production in other countries. A ceremony to mark the event was attended by Hungarian Prime Minister Viktor Orbán, Minister of National Economy György Matolcsy,Mayor of the City of Esztergom Tamás Meggyes, Japanese Ambassador to Hungary Tetsuo Ito, and Suzuki Motor Corporation Chairman and CEO Osamu Suzuki.
The new Swift for Europe is even more appealing than its predecessor. It offers better fuel economy thanks to the new K12B 1.2-litre petrol engine and D13A 1.3-litre diesel engine, better handling thanks to a new platform, and better safety thanks to seven airbags that are standard equipment. Plus, it has a design that's more dynamic, emotionally appealing, and refined.
Suzuki plans to launch the Magyar Suzuki-produced new Swift in Hungary this autumn and in Germany, the United Kingdom, Italy, and other European countries thereafter.
*cumulative sales from November 2004 to the end of March 2010
Major Specifications of New Swift for Europe
Overall length
3,850mm
Overall width
1,695mm
Overall height
1,510mm
Wheelbase
2,430mm
Tread
Front
1,490mm (15-inch) / 1,480mm (16-inch)
Rear
1,495mm (15-inch) / 1,485mm (16-inch)
CO2 emissions* (combined)
K12B
116g/km
D13A
109g/km
Fuel consumption* (combined)
K12B
5.0 litres/100km
D13A
4.2 litres/100km
*Note: The CO2 emissions and fuel consumption shown above were calculated based on a Euro 5 standard formula for a vehicle with two-wheel drive and a five-speed manual transmission.