25 May 2010
Suzuki to join eco-car study led by home city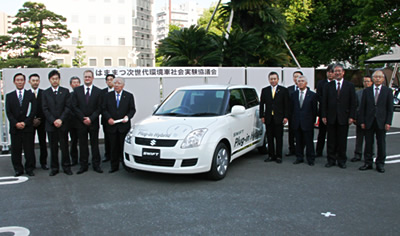 A study aimed at making next-generation eco-friendly cars viable for widespread adoption was announced on 17 May by the local government in the Japanese city of Hamamatsu, where Suzuki Motor Corporation is headquartered.
The Hamamatsu Social Experiment Project on Next-Generation Eco-Cars will bring together companies, educational institutions, local-government bodies, and other organizations. The group will collect and analyze data generated by trials of next-generation eco-cars; work with local firms to identify and pursue research-and-development targets; study ways to create technologies, ensure that they are reliable, and realize their widespread adoption; and work to establish a battery-charging infrastructure. The joint effort to realize viable next-generation eco-cars will increase the technological capabilities of the Hamamatsu region and help to realize a low-carbon, environment-friendly society.
On-road trials will begin in late September this year. Suzuki will take part with its Swift Plug-in Hybrid experimental vehicle.
Scheduled participants at this stage are as follows: Suzuki Motor Corporation; Yamaha Motor Co., Ltd.; Ensyu Railway Co., Ltd.; Chubu Electric Power Co., Inc.; Volkswagen; Softbank Mobile Corp.; ASTI Corporation; NST Co., Ltd.; The Hamamatsu Chamber of Commerce and Industry; Organization for Hamamatsu Technopolis; Shizuoka University; Shizuoka Institute of Science and Technology; Hamamatsu City; and Shizuoka Prefecture (observer).
Note: This release is a summary of an announcement made by Hamamatsu City.