13 May 2010
Swift Plug-in Hybrid gains type approval from Japanese government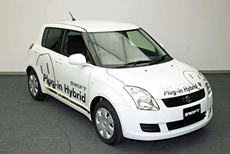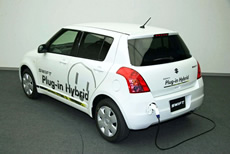 Suzuki Motor Corporation's newly developed Swift Plug-in Hybrid gained type approval from the Japanese Ministry of Land, Infrastructure, Transport and Tourism on 12 May. As a result, it can, like a typical production car, be registered and receive number plates without having to be physically presented to the ministry.
The Swift Plug-in Hybrid is a compact passenger car with a 0.66L engine that's used for electricity generation in a powertrain based on that of an electric vehicle (EV). It can travel about 15km on battery power. When the battery runs low, it can run on electricity generated by means of the engine; the user does not need to worry about getting stranded by a flat battery.
The incorporation of the small engine makes a large volume of costly, heavy batteries unnecessary, so it keeps the cost of the car down and enables the car to be light and compact.
Suzuki plans to ship Swift Plug-in Hybrid units to dealers throughout Japan this autumn and have them subjected to proving tests in order to collect performance data corresponding to regional traffic conditions and information on service issues.
Overview of Swift Plug-in Hybrid
| | |
| --- | --- |
| Seating capacity | 5 persons |
| Overall length x overall width x overall height | 3,755mm x 1,690mm x 1,510mm |
| Electric motor | AC synchronous |
| Motor max. output and torque | 55kW; 180N•m |
| Engine model | K6A |
| Time required to charge battery | Approx. 1.5h @ 100V; approx. 1h @ 200V |
| Battery type and capacity | Lithium-ion; 2.66kWh |
| Plug-in hybrid fuel consumption1 | 37.6km/L2 |
| Hybrid fuel consumption | 25.6km/L2 |
| EV range3 | 15km |
1 Average fuel consumption calculated by combining fuel consumption during operation on electric power from external charge and fuel consumption during hybrid operation after consumption of electric power from external charge
2 Measured in JC08 cycle and verified by Ministry of Land, Infrastructure, Transport and Tourism
3 Range on electric power from external charge only
Conceptual diagram of Swift Plug-in Hybrid