23 March 2010
Maruti Suzuki celebrates production of one million cars this fiscal year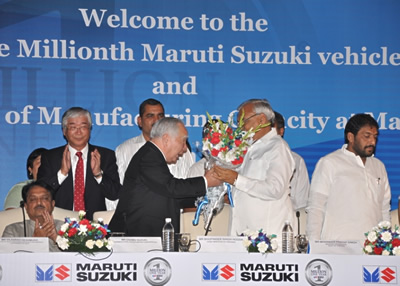 Suzuki Motor Corporation's Indian subsidiary, Maruti Suzuki, has held a ceremony at its Manesar plant in the state of Haryana to celebrate production of one million cars in the fiscal year through March 2010.
Attendees at the ceremony included Haryana Chief Minister Bhupinder Singh Hooda, Indian Minister of Heavy Industries and Public Enterprises Vilasrao Deshmukh, Ambassador of Japan to India Hideaki Domichi, Maruti Suzuki Chairman RC Bhargava, and Suzuki Motor Corporation Chairman and CEO, Osamu Suzuki.
Osamu Suzuki commented: "Maruti Suzuki is Suzuki Motor Corporation's biggest subsidiary, and its production has reached a volume comparable with that of our operations in Japan. The Indian market can be expected to continue growing, so Suzuki Motor Corporation will make every effort to enable Maruti Suzuki to offer cars with even higher quality at affordable prices. Competition in India is going to intensify, so we look to our partners here to work with us and support us more closely than ever."
Maruti Suzuki also looks set to top one million units in terms of overall sales (sales in India and exports) this fiscal year.
Maruti Suzuki production milestones
| | |
| --- | --- |
| Start of production: | December 1983 |
| 50,000 units per year | Fiscal 1985 |
| 100,000 units per year | Fiscal 1988 |
| 500,000 units per year | Fiscal 2004 |
| 1,000,000 units per year | Fiscal 2009 |
Aggregate car production volume: 8,789 thousand units from start of production