9 October 2009
Wagon R series wins 2009 Good Design Long Life Design Award in Japan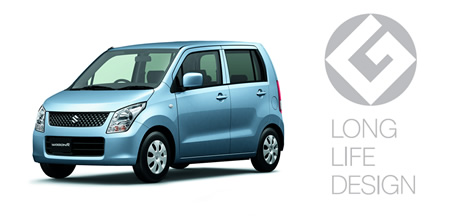 Suzuki Motor Corporation is pleased to announce that the Suzuki Wagon R minivehicle series, which consists of the Wagon R and Wagon R Stingray, has won a 2009 Good Design Long Life Design Award* from the Japan Industrial Design Promotion Organization.
The current Wagon R is the fourth-generation model. It combines the appeal and versatile user-friendliness of the earlier Wagon R generations with a stylish new design, an interior environment that gives rear passengers more comfort, and higher levels of performance and handling. Plus, the availability of the uniquely styled Stingray version means the Wagon R series accommodates a wider range of tastes than ever before.
In selecting the Wagon R series for the Good Design Long Life Design Award, the judges said: "The Wagon R established the type of minivehicle packaging in which there's a tall body and a distinct bonnet. The styling has been changed with successive generations, but the fundamental dimensions have been carried forward and refined very well. The well-known proportions of the Wagon R have created a distinct automotive product category in which there have been many followers. The Wagon R is widely recognized for its user-friendliness and has become an iconic presence in Japanese living environments."
This is the second consecutive year in which a Suzuki model has won a Good Design Long Life Design Award. The winning Suzuki model in 2008 was the Jimny.
*The Good Design Award competition (originally founded in 1957 by Japan's Ministry of International Trade and Industry as the Good Design Selection System) is Japan's only comprehensive design evaluation and endorsement system. It's organized annually by the Japan Industrial Design Promotion Organization with the aim of improving lives and advancing industry through good design.