3 August 2009
Suzuki plant in Pakistan produces millionth automobile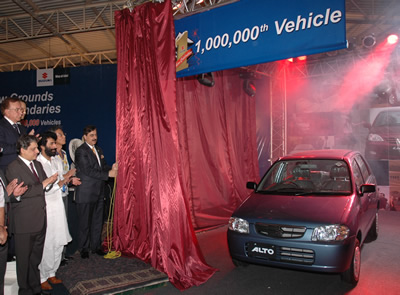 Suzuki Motor Corporation's Pakistani automobile and motorcycle production and marketing subsidiary, Pak Suzuki Motor Co., Ltd., produced its millionth automobile in May. The company held a commemorative event at the Pak Suzuki's plant on 1 August. Guests included Pakistani Prime Minister Yousuf Raza Gilani and the Japanese Ambassador to Pakistan, Chihiro Atsumi.
Pak Suzuki began automobile production with the Fronte in September 1982 and has since also produced a number of other models including the Carry Truck, Carry Van, Cultus1, Alto, and Jimny mainly for the Pakistani domestic market. It reached the million-unit milestone in about 26 years.
Production of Suzuki automobiles in Pakistan began at a state-run company in 1975. Suzuki now enjoys an automobile market share of more than 50%2 in Pakistan, and it views the country as a strategically vital overseas automobile production and marketing base alongside India, Hungary, Indonesia, and China. Pak Suzuki's production and marketing have also included motorcycles since October 2007, when the company merged with motorcycle distributor Suzuki Motorcycles Pakistan Limited.
1 The Cultus is the previous-generation Swift.
2 Suzuki's share of the Pakistani automobile market in fiscal 2008 was 56.7%.
Pak Suzuki overview
Company name:
Pak Suzuki Motor Co., Ltd.
Managing Director and Chief Executive Officer:
Hirofumi Nagao
Capitalization:
823 million rupees (approx. ¥950 million)
Investment ratio:
Suzuki Motor Corporation : 73.1%;
general shareholders : 26.9%
Headquarters:
Bin Qasim, Karachi, Pakistan
Site area:
744,935.5m2
Building area:
83,030m2