2 July 2009
Chinese joint-venture company Changan Suzuki produces millionth automobile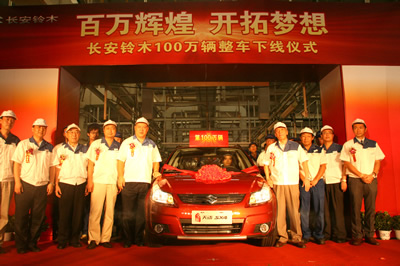 One of Suzuki Motor Corporation's Chinese automobile production and marketing joint-venture companies, Chongqing Changan Suzuki Automobile Co., Ltd., reached its millionth unit of production at the end of June.
Since the start of production at Changan Suzuki in May 1995, the company has drawn on Suzuki's expertise in producing vehicles in line with Suzuki's basic policy "Smaller, Fewer, Lighter, Shorter and Neater" in order to offer attractively priced, eco-friendly automobiles to Chinese customers.
The first model produced by Changan Suzuki was the Alto. Over the years, the Alto has come to account for about half of the company's aggregate production volume and has played a big role in raising awareness of the Suzuki brand throughout China. Changan Suzuki also produces the distinctive Cultus, Swift, and SX4.
At Auto Shanghai 2009 in April, Changan Suzuki exhibited the new Alto, a compact model with a great combination of eco-friendliness, economy, styling, comfort, and performance. The company will start producing and marketing the new Alto this summer.
Changan Suzuki overview
| | |
| --- | --- |
| Company name: | Chongqing Changan Suzuki Automobile Co., Ltd. |
| Headquarters: | Bannan District, Chongqing, China |
| Start of operations: | May 1995 |
| Capitalization: | US$190 million (approx. 1.3 billion yuan) |
| Investment ratio: | Suzuki Motor Corporation: 25%; Suzuki motor (China) Investment Co., Ltd.: 10%; Sojitz Corporation: 14%; Chongqing Changan Automobile Co., Ltd.: 51% |
| Number of employees: | 3,221 (at end of March 2009) |
| Chairman: | Xu Liu ping |
| President: | Tadashi Kondo |
| Models produced: | Swift, SX4, Cultus |
| Production volume: | 114 thousand units (in fiscal 2008) |